The Pirates! Band of Misfits - Sony Pictures Animation's first collaboration with Aardman, Arthur Christmas, had a tough time at the box office a couple months ago. It's unfortunate, because the film was essentially a great treat for the whole family to see during the holidays. Perhaps it was the abundance of family films and children's films that killed it (The Muppets, Hugo, Alvin and the Chipmunks: Chipwrecked) or maybe it was because the marketing wasn't good. That film did grow some legs (it had a 3.8x multiplier), but it just came and went.
Aardman hasn't had a box office hit in the United States since their feature film debut, Chicken Run, in 2000. Wallace and Gromit: The Curse of the Were-Rabbit grossed respectable numbers back in 2005. Flushed Away had a poor opening weekend and relied on legs to carry it past $60 million. Arthur Christmas grossed less than $50 million. Aardman's films don't really do a thing stateside, which is a shame. Their films are always good. I wonder why...
The Pirates! Band of Misfits (or In an Adventure with Scientists!, if you want to go by the film's real title) will probably perform like the other post-Chicken Run Aardman films. It'll have a small opening weekend, pull a 3.5x mutliplier and underperform completely. Like I said in the first part of my thoughts on upcoming animated films, audiences may reject this as a silly spoof of the Pirates of the Caribbean films. Do casual movie goers in the states knows of the books that this film is based on? Probably not. The opening weekend should be no less than $15 million. With legs, it can hit $50 million, but don't expect this film to be a hit. If it's a sleeper hit that manages to hit $100 million, I'll be surprised. I was hoping Arthur Christmas would be that sleeper hit.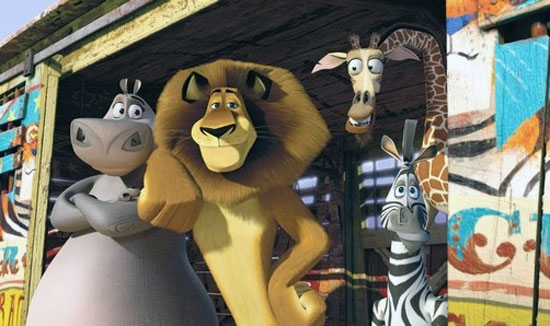 Madagascar 3: Europe's Most Wanted - This one was always a bit tricky for me to predict. Madagascar did very well back in 2005, almost hitting $200 million stateside. The second film made less, probably because it didn't really deliver and it was a November release, unlike the first film which pretty much had the whole summer to itself, as nothing family-friendly stood in its way. (With the exception of Star Wars - Episode III: Revenge of the Sith, which was rated PG-13. No Pixar film came out in 2005, and the other animated films couldn't touch it) Madagascar 3: Europe's Most Wanted is a summer release, unlike its predecessor, so it could probably do better.

DreamWorks' animated films have been grossing less than $50 million on their opening weekends since How to Train Your Dragon (not counting Shrek Forever After), everything of theirs now seems to open between $35 to $45 million, even Kung Fu Panda 2 had a disappointing opening weekend gross. Madagascar 3: Europe's Most Wanted's opening weekend gross should be around $30-40 million.
How will it perform in the long run? Brave and Ice Age: Continental Drift will take its 3D screens away and annihilate it. It may pull some good numbers in its first two weekends (kids will eat it up), but that will probably be it. It's possible that the film might even miss $100 million, the first DreamWorks animated film to do so since Flushed Away in 2006. It might be a bigger hit with kids than Brave, since Pixar films aim more to the adults. The film seems to be more of a fun romp than its talky predecessor, so it's possible that kids will like that more than Pixar's epic fantasy, which should cater to older kids, teenagers and adults.
If the film misses $100 million domestically, DreamWorks probably won't care, since the film is pretty much locked to explode at the box office worldwide. This series is incredibly popular overseas, and with the European setting, it's bound to do extremely well.