Recently, Walt Disney Studios Home Entertainment has announced a ton of titles that will be hitting Blu-ray this year. I found out about this thanks to blu-ray.com. So far, we've gotten releases like the Diamond Edition of Lady and the Tramp and Touchstone/DreamWorks' Real Steel, alongside some throwaway releases like the direct-to-video sequel and midquel to The Lion King, and Treasure Buddies, yet another pointless entry in the Air Buddies franchise. (Please, Disney stop making these movies!) Next tuesday, The Muppets will hit Blu. The film wasn't a smash hit despite its opening week gross, but maybe it'll have some time to shine on home video formats and find the audiences it needed in theaters. Steven Spielberg's War Horse, another film in the Touchstone/DreamWorks deal will hit stores on April 3rd.
So what's coming after that? A boatload of titles. It seems like Disney is diving right into Blu-ray this time. One thing about the list that surprised me was the amount of animated features. Disney took it's time with the animated features up until this point. Every late winter and early autumn, we'd get a Diamond Edition title. Once in a while, they'd release a non-Diamond title on Blu like The Fox and the Hound and Alice in Wonderland last year, in addition to any of their recent animated features. Now they are going all out. Eight (!) non-Diamond titles are hitting shelves this year.
I won't be talking about the various Touchstone and live-action films that are hitting Blu-ray, I'll be covering the classic live-action films and the animated features.
On July 3rd, Disney will release two films from the last decade: Treasure Planet and Home on the Range. I personally admire Treasure Planet for its ambitions, and the title should look stunning on Blu-ray since it has incredible animation and great use of computer animation for its time. On top of that, I believe it's a solid sci-fi action adventure. It's a shame that it was a flop when it first came out, but it did very well when it hit home video in early 2003. Home on the Range is not one of Disney's better films, but I'll probably pick it up since I want to have all of the "canon" classics. It's also notable for almost being Disney's last hand-drawn animated film, but let's not dredge up those bad memories.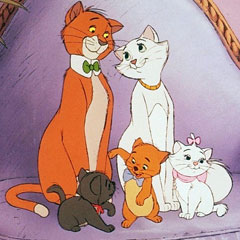 On August 7th, Disney will release The Aristocats, the first film produced and released after Walt Disney's passing. (Although Walt gave the crew the go-head on the film prior to his passing) The Aristocats certainly has its fans, but I consider it to be a very weak in terms of the story. It shows how misguided the good folks at the Disney studio were after Walt. That said, I still think it's a passable effort and it was a favorite of mine when I was young. I'll pick it up.
On a minor note, for those who look into these things, The Aristocats is one of the few Disney films where none of the home video releases contain the Buena Vista logo that showed up before the opening credits. (Like any Disney film released between 1954 and 1984) The most recent home video release still left it out, even though Disney has done a good job (for the most part) on keeping these logos intact. Who knows, maybe the Blu-ray will restore the logo. For those who have never seen the full opening credits with the logo,
here's a 16mm print of it
, courtesy of a Disney aficionado who goes by the name of 8to16to35.
The rest of the titles have no exact release dates yet, though I have a feeling the upcoming Diamond Edition of Cinderella will be released on October 2nd. Fun fact, this will be the first time Cinderella didn't hit home video on October 4th. The first release (in the Classics line) was on October 4, 1988. The second (the Masterpiece Collection edition) hit stores on October 4, 1995. The Platinum Edition DVD? October 4, 2005. This will break that.
What else? Two double-packs. One is The Rescuers and The Rescuers Down Under (yay!) and the other is Pocahontas and Pocahontas II: Journey to the New World. (No!) Anyways, the latter will continue what seems to be this annoying trend with Disney, release a minor/non-Diamond title and package it with the awful direct-to-video sequel. Very nice, Disney. I still haven't purchased The Fox and the Hound 2-movie collection, I'm waiting for them to release the first film on its own. Pipe dream, I know!
Last but not least are two more titles from the last decade: Atlantis: The Lost Empire and Brother Bear. While I feel that both of these films are flawed in the story and screenplay department, they are certainly interesting films. Atlantis is Disney's attempt at making an epic action-adventure along the lines of Jules Verne and Indiana Jones, only to be butchered by executives. Brother Bear's production history is something of an enigma, but the film contains stunning animation and was one of Disney's last hand-drawn animated films. Home on the Range would be the last, until Disney wised up and brought back hand-drawn animation thanks to good folks like John Lasseter.
One thing though, where's Finding Nemo? The film is being theatrically re-released in 3D in September, so I assume that the Blu-ray release will follow. I always thought it would be released the same day Brave hits Blu-ray (early November), but it's not on the list, so maybe it won't be. Then again, Brave isn't on the list either. Ditto for John Carter, which should hit Blu-ray in June. Also on the list is the live action/animation hybrid Pete's Dragon (maybe we'll get the Roadshow cut this time), The Tigger Movie, another cheaply made Pooh spin-off that should've been a direct-to-video sequel, and the bad direct-to-video sequel to Lady and the Tramp, Lady and the Tramp II: Scamp's Adventure.
Anyways, I am very excited. So many Disney films coming to Blu-ray in one year. The Mouse House's home entertainment division is starting to pick up steam. This leaves an interesting question, what will we see on Blu-ray next year? There are so many possibilities. Tell me what titles you think Disney will release on Blu-ray next year. Also, what Diamond Editions are we getting after Aladdin in early 2013?
The Diamond Edition collection is not following the Platinum Edition order, so here's what I'd say. In fall 2013, we're mostly getting The Little Mermaid since the 3D re-release will be in September. In the late winter of 2014, I'd say Peter Pan. Peter Pan tends to come out around the time Mermaid hits home video. Mermaid first hit home video in May 1990, followed by Peter Pan in September. Both films came back to home video in the Masterpiece Collection in 1998. Not counting the 2002 DVD release of Peter Pan, the Platinum Edition hit stores right after The Little Mermaid. I expect Disney to repeat this pattern after Mermaid's Diamond Edition comes out.
Fall 2014? The Jungle Book, since The Jungle Book followed Peter Pan and so on: One Hundred and One Dalmatians (late winter 2015), Sleeping Beauty (fall 2015) and Pinocchio. (late winter 2016)
What do you think? Do you think the Diamond Editions will come out in this order? Or will they come out in a different order? Tell me what you think. Also, like I said earlier, tell me what you think will hit Blu-ray in 2013. What Mouse House titles will hit the format next year?
Also, here's the full list of upcoming Disney Blu-ray releases.