More tidbits for ya...
Planes
once again proves that animated films that don't have much adult appeal won't fare too, too well.
Planes
is unabashedly a children's film, so it didn't set the box office on fire over the weekend unlike something like
Monsters University
or
Despicable Me 2
. You know, animation that's both for kids and adults.
But others (such as are ever-so-accurate press) would lead you to believe that
Turbo
,
The Smurfs 2
and
Planes
underperformed because there's "too much animation", implying that people are getting sick of feature animation... No, they are getting sick of bland animation and animation that's aimed at kids only... Plus, with all these films opening so close to each other, families got super-choosy. I hope this summer teaches distributors a lesson: Don't open so many animated films so close to each other. 2 or 3 is fine, but 5 or more? A big no-no.
Opening with a small $22 million,
Planes
already made Disney very happy since the film only cost $50 million to produce. Plus, it's bound to make a good amount overseas given some foreign locations they cover in this film. All I can say is... Ehhhhhhhhhh. Why oh why does the sequel have to be a theatrical release?
~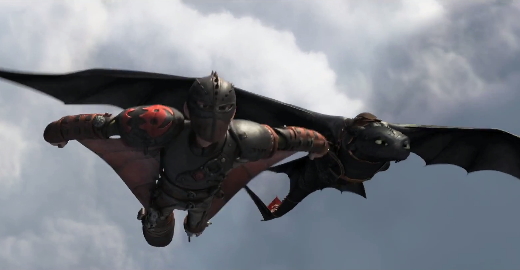 DreamWorks, in a rather surprising move, pushed their highly anticipated
How To Train Your Dragon 2
a week forward. The film is now set to open on June 13, 2014, but honestly... I can kind of see
Kung Fu Panda 2
happening all over again. Sort of.
If you remember, Paramount and DreamWorks for some reason felt that the sequel to their 2008 blockbuster would put up a good fight against
The Hangover Part II
. But what happened? The teens and adults flocked to
The Hangover Part II
, leaving
Kung Fu Panda 2
to rely on family audiences and those who have no interest in
The Hangover
franchise... The result was a very disappointing $47 million opening while
The Hangover Part II
took in $85 million for the weekend. Its opening was certainly no major take off, especially when you consider that its predecessor opened 3 years earlier with $60 million... Without 3D ticket prices!
What opens the same weekend as
How To Train Your Dragon 2
?
22 Jump Street
...
Let's see... A sequel to a sleeper hit R-rated comedy? Need I say more?
How To Train Your Dragon 2
's opening may not be spectacular unless Fox plays their cards right. The teaser for this was fabulous, unlike the lazy "staring contest" teaser for
Kung Fu Panda 2
. Its official trailer better deliver and make audiences want to see it opening weekend, because
Kung Fu Panda 2
's underwhelming trailers and marketing didn't succeed in doing that. Hopefully Fox's marketing shows audiences why they should definitely see DreamWorks' epic sequel to their very good film and make the audiences think, "Hmmm... Yeah I'll see that instead of
22 Jump Street
!"
I mean, this is supposed to be a very big follow-up to the leggy original. The original was lucky to have many weeks all to itself, so that the incredibly strong word-of-mouth was able to help the film climb to $200 million at the domestic box office. This sequel underperforming and making less would be terrible, especially since it's supposed to be like the series'
Empire Strikes Back
. I wouldn't doubt that, because DreamWorks went the darker route for their sequel to
Kung Fu Panda
but yet the poor handled of that stalled it from doing better than its predecessor at the box office. Let's hope the same mistakes aren't made again with this sequel, because DreamWorks needs a big hit and I don't quite think
Mr. Peabody & Sherman
will be a box office bonanza.
But apparently Fox and DreamWorks are confident in this, so it's possible that the dragons may outwit the cops that summer weekend. Personally, I think these poor choices of release dates are what's are partially killing most animated films these days. (
Bolt
and
Winnie the Pooh
, anyone?)
~
On the home media front, we got word of the postponed
Tom and Jerry
Golden Collection Volume 2 set. In case you didn't know, this series was meant to give us - the animation enthusiast - the complete, fully uncensored collection of the entire
Tom and Jerry
filmography from the Golden Age to the post-Hanna-Barbera films. Volume 1 delivered the goods and then some, everything on there was uncensored and there were even a couple lovely bonus features.
But this upcoming set is a disaster in the making. Warner Bros. legal department will not allow two particular
Tom and Jerry
cartoons to be released in any form. The problem is, both are supposed to be on Volume Two since the series is going in chronological order.
Mouse Cleaning
and
Casanova Cat
are the two shorts in question. The legal department want to avoid a PR nightmare, but they are hypocrites because Warner Bros. has released material that's just as offensive for general consumers, from the uncensored
Looney Tunes
collections to the uncensored
Popeye
sets to the first volume of this series... And they all have warnings saying that they're for the "adult collector", and they also give viewers an explanation of the content in these films: Again, some of the certain gags in these shorts are offensive, but censoring them out is just as offensive. They're a part of history. The first set and all their other adult-oriented cartoon collections from Warner make this very, very clear.
However, WB's legal department doesn't want these two particular shorts to see the light of day for some probably stupid reason, not even through the WB Archive, thus contradicting everything the other sets stood for. So we can't have those two shorts on an "adult collector" set, but yet we can have other offensive material. The legal department apparently thinks that we're children or something.
Let that all sink in for a minute...
PR nightmare, alright. They created a new one just by playing this game with us. We're adults, we know why these cartoons are the way are, so stop trying to hide them from us when you've released other equally offensive cartoons to general consumers,
general consumers!
Anyone who has seen
Mouse Cleaning
and
Casanova Cat
will tell you that they are no more offensive than
The Milky Waif
and
The Truce Hurts
, or any other
Tom and Jerry
cartoon with a blackface gag that's readily available uncensored in the US for general consumers. Warner Home Video really wants all of these pieces of history to be released, but no, the legal department has something against those two particular shorts...
Anyways, this pointless and unfair censorship lead to (much-deserved) backlash, and it's made the news, too! The set was then postponed, though a December 17th date somehow got out there. Jerry Beck (in case you don't know, he's a great animation historian and has worked on many of these sets, including this one) appeared on Stu's Show not too long ago. The set was brought up and he outright confirmed that WB's legal department is giving Warner Home Video trouble, and they're not going to let those two cartoons see any form of release in America (note: They're available uncensored in the UK). He says that we shouldn't expect the set until 2014 at the least. I'm not holding my breath for a complete set.
Insert rant here...
Speaking of home media, on October 15th, the surprisingly very good and well-written Disney Channel animated series
Gravity Falls
will be hitting some form of home media... Unfortunately, it's a DVD-only release with six episodes. "Six Strange Tales"... Yeah, because we can't have our full season just yet. Or ever, maybe... Given Disney's track record when it comes to these things.
If Warner Bros. and Cartoon Network can give us the full seasons of shows like
Adventure Time
and
Regular Show
, Disney can damn well do the same for
Gravity Falls
. Heck, where are the full season sets for
Phineas and Ferb
?! What they're failing to realize is that like those two Cartoon Network shows,
Gravity Falls
has a teenaged and adult fanbase that makes it very successful. People would also scoop up a season boxset of
Phineas and Ferb
, from families to fans to many others. However, it is possible that this is a set geared towards the kids and that they're saving the goods for the fans. (Making this show an exception to their TV shows on home media business model.)
Well, maybe. Here's hoping they do the same for
TRON: Uprising
, since they did a good job sending that show to the grave. At least Blu-ray sales or the fact that it's on Netflix could gain the series new fans... Though the third
TRON
film doesn't seem to be a go anytime soon. Director Joseph Kosinski has signed on to direct
The Twilight Zone
movie. Looks like that franchise is slowing down once again...
~
Animated Views recently
interviewed
Jimmy Hayward and Aron Warner. Hayward, as you may know, is the director of Reel FX Creative Studios' debut theatrical feature-length animated film
Free Birds
(formerly known as
Turkeys
), which will hit theaters on November 1st. Warner is a big-time producer, and he's well-known for producing the
Shrek
films, as
Free Birds
' fun trailer mentions.
Hayward talked about some of its production history, and also said that the film's plot is "all in good fun" and that they aren't trying to send some PETA-esque "don't eat turkey" message. (Phew!) He also explained the title change, saying that they wanted something that would have international appeal. Then he also explained the release date change, the movie was pretty much in the can last summer and November 2014 was too much of a family film mine (
Big Hero 6
,
Home
,
Night at the Museum 3
, etc.)
Warner talked about Reel FX's plans, things I speculated about months ago. I'm in support of this studio because they've got risky things planned for the future (Hayward himself elaborated on that), and they also plan on spending reasonable budgets on their films. Hmmmm, maybe other studios should follow suit, yes? For the record,
Free Birds
has pretty good-looking animation if you ask me. See, I like this idea. Lower budgets mean greater risks can be taken, LAIKA and Aardman don't thrive for nothing.
He also mentioned a few things about Jorge Guiterrez's
Book of Life
...
"The movie is unlike any computer animated film I've ever seen. It looks different; it feels different; it sounds different. It's definitely Jorge's – it is so much a project from this guy's heart."
Now see? That's what studios should be doing, making lower budget films that take some major-league creative risks. Book of Life might just change the industry if Free Birds is a hit, and prove that good computer animation can be done for less than $100 million and it doesn't have to come from someone like Disney, Pixar or DreamWorks. Again, Free Birds looks fun despite some formulaic elements, but it's a safer film for a reason. It's the debut, it's the kick-off feature. Safe film first, risks later!
No word on Beasts of Burden, though...
~
What do you think of Reel FX? Do you think the studio has a lot of potential? Do you anticipate what they have to offer? Do you think Disney will eventually give us season box sets of shows like Gravity Falls, Phineas and Ferb and TRON: Uprising? Do you think Warner Home Video will triumph over the legal department? Or will they lose and all we'll end up getting is a censored set? Do you think DreamWorks and Fox moving How To Train Your Dragon 2 up a week was a good idea, or not?
Sound off below!