For a while, two major animated films have been slated to open on June 17, 2016...
Fox and DreamWorks claimed this date first, placing
How To Train Your Dragon 3
there. That was last summer...
This past May, Walt Disney Pictures picked that same date for an untitled/undetermined Pixar film when unveiling their 2016-2018 animation slate. Until now, we presumed that it would be Lee Unkrich's "Day of the Dead" project. Due to what happened in the last few weeks with
The Good Dinosaur
,
Finding Dory
is now set to open on that day - that sequel was originally scheduled for a November 25, 2015 release.
So... On the warm summer day of June 17th in the year 2016, we'll have the first major head-to-head animation battle since Don Bluth's
All Dogs Go to Heaven
was released by United Artists on the same day as
The Little Mermaid
back in 1989. It wasn't the last head-to-head animation battle, mind you. Universal released
An American Tail: Fievel Goes West
the same day as
Beauty and the Beast
in 1991, but let's face it... That was no "major" animation battle; Disney had it in the bag, plain and simple.
*Note: The whole Peanuts vs. Finding Dory thing was a big mistake on my part. A copy of Fox's animation slate had Peanuts listed for a November 25th release, so I assumed that Fox moved it to Dory's original release date to compete... The film is still - and has always been - slated to open on November 6, 2015.
So...
Finding Dory
vs.
How To Train Your Dragon 3
...
VS.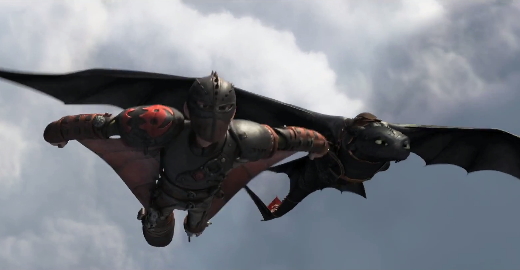 I don't know about you, but this just can't work out. DreamWorks may have claimed the date first, but no way is Disney going to move
Finding Dory
(or any Pixar film for that matter) from Pixar's typical mid-June spot unless they opt for a Memorial Day weekend release. Nothing has that spot right now, so Disney can very well move the Pixar sequel to that date. Also,
Finding Nemo
opened on the last Friday of May in 2003,
The Good Dinosaur
was almost a late May release... It would make perfect sense, actually.
The question is, will they? Or do they want to go head-to-head with Fox and DreamWorks?
Would Fox and DreamWorks move the
How To Train Your Dragon
threequel? Maybe, but since the second film has a similar mid-June release date for next year (June 13th), they probably wouldn't move this.
How To Train Your Dragon 2
is poised to be 2014's biggest animated film, box office-wise. It's possible that this sequel will soar past the original, much like how
Despicable Me 2
did this summer.
If the two are to be released on the same day, what would happen?
Finding Dory
is the sequel to one of Pixar's most beloved films.
Finding Nemo
's then-record breaking domestic gross adjusts to $459 million today. The sequel is definitely opening with more than $100 million on its opening weekend -
Monsters University
most likely didn't reach that threshold on opening weekend because it was a prequel. The general public will be ecstatic about the sequel, loyal fans will be, it'll probably break the record for biggest opening weekend for an animated feature.
How To Train Your Dragon 3
will undoubtedly be big if the sequel breaks out. The first film was huge because of the excellent word of mouth and lack of competition, if
Dragon 2
does very well (which it should, no way this sequel should not make as much as the original), this ought to be really big. $100 million could be in the cards, actually.
The problem is, both films' grosses will be affected. I think it would be wise if one of the studios were to move their film. I think Disney should be the one to do it, because Fox really can't move
Dragon 3
, plus Disney would want the best possible gross from a Pixar film - especially a sequel to one of their biggest.
Disney could very well take Pixar's film and move it forward. Something like May 27, 2016 would work out quite well. Or Fox could take that date, but again, I think DreamWorks would want to stick to the mid-June date and also... They got it first.
I think the best scenario would be this (including other summer blockbusters/ big releases)...
Marvel Untitled - May 6, 2016
Some blockbuster... - May 13, 2016
Some blockbuster... - May 20, 2016
Finding Dory
- May 27, 2016
Some blockbuster... - June 3, 2016
The Amazing Spider-Man 3
- June 10, 2016
How To Train Your Dragon 3
- June 17, 2016
It would give both films room to breathe in the blockbuster battlefield. Andrew Stanton and crew will still have more than enough time to fine-tune
Finding Dory
, since that release date is only a few weeks ahead of the current one. DreamWorks can keep their date, and their film will be successful despite any competition. (Does anyone really think that
Angry Birds
will take a toll on
Dragon
's box office performance?)
Interestingly enough, since Disney opted to release a Pixar film on the same day as
Dragon
, Fox retaliated by slating an animated film to open on the same day as Pixar's summer 2017 release - Disney claimed that date first. Now if this whole "duel" between
Dory
and
Dragon
3
is canceled, and that both open on separate dates, then maybe Fox will move DreamWorks' June 2017 release to another date.
What do you think will end up happening? Sound off below and be sure to vote in the poll!
Update (10/8/13): Okay folks, here are the results!
10 of you think that Disney will have to move the Pixar sequel to another date.
21 readers think that Fox will end up moving
How To Train Your Dragon 3
.
12 readers say that both films will just end up opening on the same day.
Seems like many of you can see
Dragon 3
being moved, and honestly, that's looking to be more plausible than Disney moving
Finding Dory
. Disney is an entertainment giant, and would they move a Pixar film just because a DreamWorks film had that date first? If anything, that answer will be no - I'm just surprised that no one has a move yet... But a lot of you think that it'll be DreamWorks who will end up moving their film.
It may just happen. Again, thanks for voting, people!