Warning: This review contains MAJOR SPOILERS...
The Lego Movie
is brilliance. It really, truly is.
Way back when I first read about this film, I had a total "This can go either way" reaction. I saw that
Cloudy with a Chance of Meatballs
directors Phil Lord and Chris Miller were attached to direct, I was excited, but still skeptical considering how easy it was for the industry to make a movie based a toy everyone knows, especially those who live under a rock. This could've been another stupid blockbuster with no shred of imagination. Yes, it screamed "toy commercial" from the very beginning. But lo and behold, the trailers suggested that it would be a funny and clever romp.
It turned out to be more than just that…
The Lego Movie
's plot is basic, but the script keeps you interested and the different things Lord and Miller come up with drives everything. The characters are all very likable and are familiar parodies of characters we've seen many times before (Emmet is the blank slate, Vitruvius is the elderly oracle, Wyldstyle is the action girl, etc.), plus the film's irreverent tone makes it such a joy fest. Some of the funniest animated films out there are the ones that are self-aware, such as
Aladdin
and
The Emperor's New Groove
, and they bask in their silliness.
The Lego Movie
has silly and energetic written all over it, but in such a good way.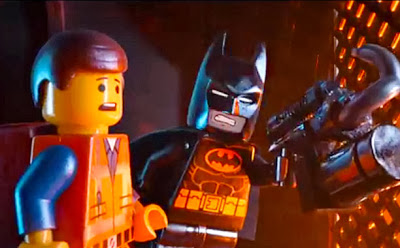 Like those other irreverent animated comedies, it masters the art of being so funny and non-serious while still containing a loud, beating heart beneath its comedic exterior. Emmet and his gang's quest to defeat the evil Lord Business is surprisingly more than just your typical quest as well, as our ending shows how much substance this fun little film has. It doesn't have your typical "be yourself" message, which was very, very refreshing. Emmet doesn't quite fit in with the people in his city, but doesn't fit in with the Master Builders either until we all realize that he's unique in his own way. He's so bland and dead-set on fitting in that he's not really noticed; but yet he has a thing for making weird concoctions that everyone writes off as lame or stupid… They actually mean something for some reason.
But this isn't an "everyone's special" message, it's pretty much about what's wrong with judging someone or what they do before actually seeing the merits in them and their actions. The anti-conformity message looms in the background, as everyone in Emmet's city is so plain and bland. Everything's uninteresting in the city, thanks to all the pre-manfactured fluff and whatnot. (It's kind of like a Lego city run by
WALL-E
's Buy 'N' Large.)
The film has a real creative verve, its pacing is as quick as a bullet train. It keeps you on the edge of your seat with satisfying twists, crazy-good action sequences that get better and better (I mean c'mon, Batman showing up out of nowhere to save our heroes in the Wild West? That's just one example of many!), unexpectedly hilarious jokes and cameos, and tons of thrills. Its screenplay is a giddy fireworks factory explosion of these things, and it just soars.
Going along with this delightfully hyperactive script is the eye candy… My goodness, the animation… It was a real treat for the eyes. Not only was it colorful and detailed, but the computer animation really made this Lego world look real. The movements at times made you think, "How was this NOT stop motion?" I felt the same way when I saw the trailers, but none of the animation is clunky. For instance, some scenes will have characters or objects moving in a certain way, a way that fits the tone of the scene. It's all balanced, and it's surprising that the film was this consistent to begin with. There are loads of little visual jokes and whatnot, and if you were a big Lego aficionado growing up, you'll get them when you see them. (i.e. the flames being those Lego flames, etc.) Every little thing in this film is a Lego.
In addition to all of this, the film is surreal. Very, very surreal. It was so refreshing to see a wide-release animated feature that not only didn't copy the Disney, Pixar or DreamWorks styles, but decided to be weird. Instead of being a little quirky, it just goes all out… Then that final act truly caught me off guard, it really did. The film's finale with the boy and his serious father is so poignant and heartfelt in so many ways, and it brings the film to a whole new level of greatness. I don't know about you, but I got the following message out of this ending…
The dad uses Legos for a serious city project, scoffing at his son's more imaginative creations. Then he sees more of them and how his son's little Lego story mirrors what's going on in his life. The dad discovers what people call their "inner child", I call that their spirit. People seem to associate adulthood with being serious and "putting away such childish things", but really, adulthood is about being who you are and having a spirit, a creative one at that while still being responsible. Being an adult doesn't mean "reject what you once loved because it's perceived as childish", being an adult means maturing and working independently within this world, taking responsibility and things like that. Walt Disney had always talked about that clean, unspoiled spot inside all of us. That's not an inner "child" to me, that's a spirit, and
The Lego Movie
reminds us: Don't lose your spirit, it is very important and it makes you, you.
It's all the more special because it comes out of an animated family film. Many adults "move on" from animated family-friendly films, acting as if those films are childish. They believe that the only way they should enjoy animation is to embrace their "inner child" first before watching one of those films. Again, turning down something that brings joy because they perceive is it a kids-only thing. We adults enjoy animated films, like any good escapist entertainments, because we aren't "adult childs". It's because we have spirits, we want to experience joy and have fun even though we have to go back to reality afterwards. That's not being childish, that's called seeking escapism and fun. What? Do you have to be miserable, cynical, boring and anti-fun when you're an adult? Hogwash.
(Meanwhile, Fox News or whatever bends over backwards and yells "This movie is anti-business!" Talk about missing the point entirely while proving my point, but hey that's what happens when you don't understand animation or family entertainment…)
The father realizes that fun is what Legos are all about, he stops with his rather unpleasant behavior towards his son, and as a result, bonds with him. It's such a short scene, but we know who the father and son are thanks to the main story… It just adds a whole new level of depth to this film, and it was a real surprise in the end. That's what I got out of it, I'm not sure if others did, but this message - if intended by Lord and Miller - is refreshing and wholly satisfying.
The Lego Movie
is a real special treat thanks to a ridiculously creative script that's littered to the brim with surprises, a heartfelt ending, a surprisingly strong message (and another) and such wonderful visuals that really are the icing on this cake. Take a piece, because it's that awesome.
Extra points for…
* The very brief BIONICLE reference…
* The parody of the
Man of Steel
opening sequence…
* The jabs at the Nolan Batman formula in Batman's ditty, "Untitled Self Portrait"…
* Abraham Lincoln's line…
* The Batman symbol in the sun…
* Superman and Green Lantern trapped in gum…
* Lord Business' ridiculously tall tower…
* The cat poster…
* SPACESHIP!
* Vitruvius' ghost…
* Duplo aliens…