As expected, the bricks broke out at the box office this weekend… And almost broke a record…
Made for $60 million,
The Lego Movie
has pulled in an estimated $69 million, it scored the fifth biggest opening for a non-sequel animated film (behind
The Simpsons Movie
,
The Incredibles
,
Finding Nemo
and
The Lorax
). Warner Bros. scored gold here, and soon their reborn animation studio will take off like a rocket. This is the kind of success that they have been waiting for. I'm surprised they haven't announced what's going on with currently-in-development projects like
Storks
and
Smallfoot
yet. I'm surprised a release date for a sequel hasn't even been inked yet. (
Storks
was announced for a possible 2015 release. They better get a date soon, before it's too late.)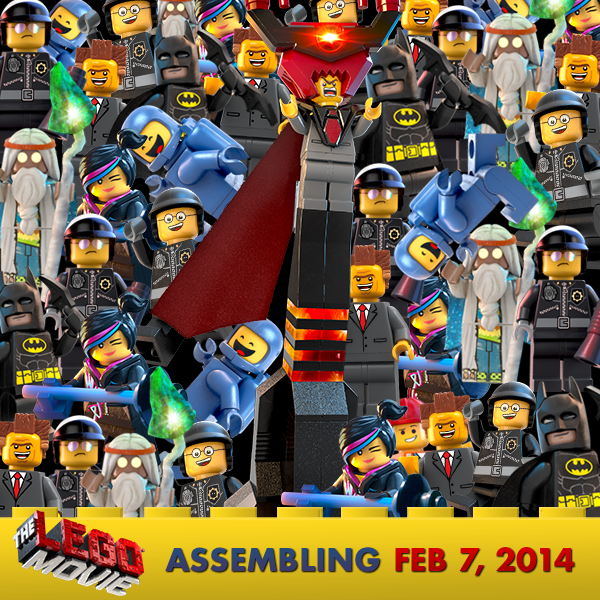 Anyways, it was always going to open this big. Boxoffice.com and Box Office Mojo might've predicted a $40 million opening, I was thinking over $60 million all along. How could it not open with that much? It's Lego! Kids and adults would flock to see it, plus it looked really funny from the trailers and it ended up getting great critical reception. (I have yet to see it, but I'm going to see it as soon as I can… Maybe later today.) Phil Lord and Chris Miller are probably going to be tapped to direct more animated features because of this, and good thing too.
The success of
The Lego Movie
also proves that you can release a big animated film any time you want. February? So what if kids are in school, you'll still get everyone else to go see it, and the kids end up seeing it anyway. Rule of thumb: If an animated movie looks good, it'll do good, no matter when it comes out. Animated films are already scheduled for February 2015 and February 2016, so you'll be seeing more animated films scheduled for February releases soon enough. It's a new hotspot.
So, what will it make in the long run? $250 million is the lowest it can go at this rate, it might even take in $300 million. Animation really is off to a great start this year, plus
Mr. Peabody & Sherman
is out in the UK and it has gotten some pretty positive reception. Good sign right there!
The other success story this weekend is
Frozen
, yet again. Usually, an animated feature really dips when another big one comes out… Not this film. It only dropped 22%, and the film has outgrossed
Despicable Me 2
domestically, standing tall at $368 million. It's still in the Top 5, too.
The Nut Job
is still in the Top 10, as it wasn't hit really hard this weekend, either. This suggests that audiences, little by little, are getting used to more animated features coming out and won't drop one feature for another.
Worldwide,
Frozen
has crossed the $900 million mark and should hit $1 billion by the time it ends its run in Japan. Could it beat
Despicable Me 2
to the punch? Will
Despicable Me 2
end up stalling with around $980-990 million? Who knows! But think about that… Two animated features released in the same year ended up grossing over $950 million worldwide.
Yeah animation sure is cursed, isn't it? People are totally getting tired of animation, aren't they? Anyways, I'm very happy for Warner Bros., because they've never really succeeded in the theatrical animation world (box office-wise, of course) and if they did, it was only temporary (i.e.,
Space Jam
,
Happy Feet
), but hopefully the success of this movie leads them to a good future, and that we'll soon see them turning out successful animated features on a regular basis like the other distributors.