Birds, superheroes, monkeys, studios and games… It's time for more bits!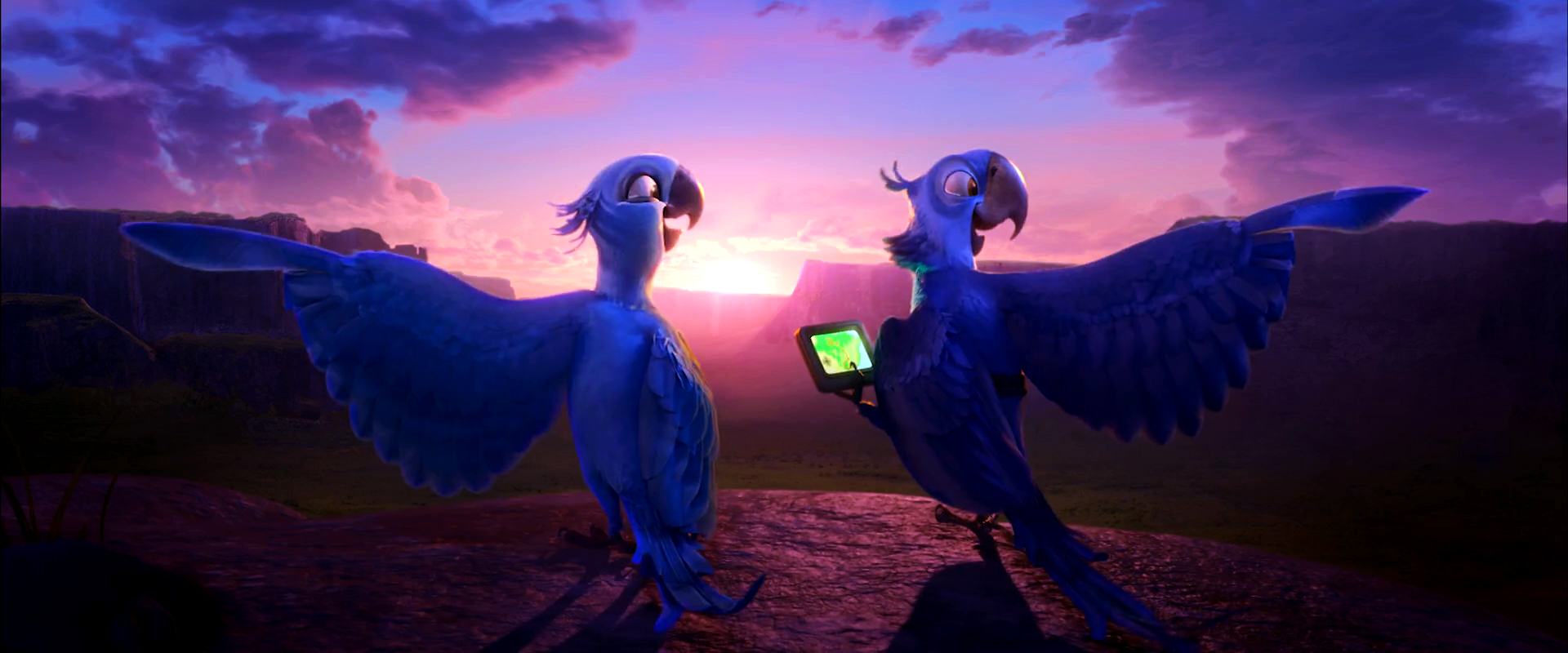 'Rio 2' Opening
Opening with a solid $39 million,
Rio 2
opened with the exact same amount its predecessor opened with three springs ago. Adjusted, it's $40 million, so the Amazon-set sequel stayed flat. Some animated sequels tend to do that, plus I didn't sense much hype for this second installment. The first one was fun and pleasant enough, but this one - I think - looked like more of the same.
Reviews were also weaker, as the film has a 50% on Rotten Tomatoes, whereas the original had something in the low 70s. With that, I don't think the legs will be as a strong, but you never know. $140 million is doable, but what should really matter to Blue Sky is the international gross. This will most likely trump the original's very good $341 million overseas total. Get ready to hear "
Rio 3
for spring 2018!" soon. (Yeah, I know, Blue Sky's
Anubis
is currently scheduled for spring 2018. I think it'll move ahead.)
DreamWorks Goes Ape
Some of the cast for DreamWorks' 'Mumbai Musical' has been announced not too long ago…
Glee
star Lea Michele (who has done voice acting before) and child actor Rohan Chand (
Lone Survivor
,
Bad Words
) will provide voices in this still-untitled musical comedy from animation veteran Kevin Lima, who - when he was at Disney - directed
A Goofy Movie
,
Tarzan
(alongside Chris Buck) and
Enchanted
. DreamWorks announced this project roughly four years ago, and it got a release back in summer 2012 when DreamWorks unveiled a massive slate that went up to 2016.
The film is still set for March 18, 2016, but what will the title be?
When announced, it was called
Monkeys of Mumbai
. Why they didn't stick with that title, I don't know. Sounds marketable to me, just the mention of monkeys is fine enough. Steve Hulett referenced the film over at the TAG Blog recently, calling it
Bollywood Superstar Monkey
. I have a feeling that this definitely won't be the title, because it's quite a mouthful and it just doesn't seem right.
Superstar Monkey
or
Bollywood Monkey
is perhaps better.
What do you think it should be called?
More Feature Animation
VFX house Double Negative - whose resume includes multiple big budget films from Nolan's Batman trilogy to various Marvel films to
2012
to multiple
Harry Potter
films - is planning to get into the feature animation business, and has Tom Jacomb helping them develop the division. Jacomb was an associate on a few DreamWorks films and specials, prior to that he did producing duties for Vanguard Animation (the studio that made the forgotten
Valiant
and
Space Chimps
). Is he the right guy to run the show? Well, he was attached to some pretty good DreamWorks films, so…
I just hope Double Negative tries to be different from the competition, instead of being imitators. They are one of the finest VFX houses out there, and I expect their animation to be pretty high quality. That being said, I don't want to see more run-of-the-mill Pixar/Disney/DreamWorks clones, I want to see something different and new. So far, we have some houses like Reel FX that could go against the grain. Let's hope Double Negative plans on doing the same thing…
Sarah Smith, director of Aardman's excellent
Arthur Christmas
, is also starting an animation studio of her own: Locksmith. Big surprise, it's being backed by Double Negative and Elisabeth Murdoch (Rupert Murdoch's daughter and CEO of British TV network Shine Limited).
Variety
reports
that the studio is planning a long-term slate of computer animated features. No hand-drawn, eh? Bummer. Well hopefully the output is very good and perhaps different from what's usually given to us. Also, the studio wants a board of animation directors and writers from around the world, so that's another plus. Let's see who they bring together.
Could this studio be as big as Aardman? I hope so. It's great that Aardman makes features and they get released in theaters here (if they didn't partner with Sony, would something like
The Pirates!
even reach American theater screens?), so hopefully this studio takes off. Very very exciting news…
Super Updates


Marvel continues to rocket around the racetrack, while Warner Bros./DC is still figuring out what to do with their car…
Captain America: The Winter Soldier expectedly opened big… We're talking $95 million domestic and $300 million worldwide big. The American hero is racking up the points around the world, and this big opening thrusted the Marvel Cinematic Universe to the top of the chart. What chart you might ask? Well, it's the highest grossing film franchise of all time, topping previous record holder Harry Potter. But it was inevitable, given that they're on film #9 right now and two of the films grossed $1 billion worldwide. That record won't be topped for a long while, since Kevin Feige recently said that his game plan extends to 2028. This weekend, it dipped like most action movies do and took in a good $41 million. Its overseas gross is already about to beat the original's overall worldwide total, and it's near $500 million.
Anyways, the super soldier is rocking the box office and knocking audiences' socks off. It deserves to be successful, as I felt it was the best MCU film yet and just an excellent action thriller on its own. Captain America 3 is now confirmed to be the May 6, 2016 release… Warner Bros., however, is adamant that the still-untitled 'Batman vs. Superman' film (which is reportedly going to cost $300 million) will open on that day.
David S. Goyer recently implied that there isn't a game plan for the DC Cinematic Universe, which is very telling. It seems that Chris Terrio is out of the picture, as we've heard very little about him. It's just Goyer taking the stage lately, and that's making me worry again. Terrio could've possibly turned that script around, but now we have no idea what's going on. Is he still tinkering with it? Or did leave the project like Christopher Nolan did? Who knows, who knows…
But one thing is for certain, they are behind and they need to move 'Batman vs. Superman'. The future of the DC Cinematic Universe depends on this big project, and the response to Man of Steel is probably making Warner Bros. executives worry. Normally I'd point out my dissatisfaction with Zack Snyder and Goyer's work and the fact that they are the architects of this series, but what really matters is how it will fare. If these two films open on the same day, they'll take chunks out of each other's box office totals. Shouldn't both of them be successful on their own? I think so, they should be as a big as they can possibly be.
They need to do this film right. It can't be another Man of Steel that divides critics and audiences like a knife cutting a fruit perfectly in half. DC Entertainment should really be its own entity, without WB's suits interfering with their work. The shield studio hasn't been the same since the departure of people like Alan Horn, and the trouble they're having with this universe definitely shows. Just get a good script and give the damn thing a good release date, how hard can that be?
Fox? Forget them, they're going forward with The Fantastic Four's untitled sequel, even though the first film reportedly was in deep trouble not too long ago. I guess it's still a mess and they're still going forward with it, because they just gotta hang onto those rights! Not like Disney kinda needs them or anything…
Sony on the other hand has been gung ho about their Spider-Man developments. I know it's not chic to like Marc Webb's
The Amazing Spider-Man
or to be excited about the future installments, but I'm liking what Sony is trying to do. Early reviews for the sequel are mostly positive, though these critics had some problems with the film. Still, it should be good. Marc Webb finishes things up with the third film (which opens in 2016), but a fourth film was announced and it's currently pegged for 2018. However, Sony said that the
Venom
spin-off and
Sinister Six
film will come before
The Amazing Spider-Man 4
. Hmmmmm…
The Sinister Six finally has its director, the promising Drew Goddard (director of The Cabin in the Woods, also writer of Cloverfield and producer of Marvel's upcoming Daredevil series), though he was rumored to be the director for a while. Venom has screenwriter Alex Kurtzman at the helm. Rumors are now suggesting that Carnage will appear in the Venom spin-off. If they are to show up before a fourth film, this means that either Venom or The Sinister Six will be that 5/4/2018 release. Spidey's fourth outing will have to wait until 2020 at the earliest.
Anyways, this is pretty exciting I think. Having two films focusing on villains for future Amazing Spider-Man films? That's different… I mean, it'd be weird seeing a film in a superhero series where the villains are the main characters, but it's definitely unexpected. I just hope it works out, and since I very much liked the first film, I have a feeling I won't have too many problems with the sequel - only making me more excited for future installments.
Also, if they do both spin-off films first and then get to
Amazing Spider-Man 4
much later on, Andrew Garfield could still play Spidey. He'll go to other projects between 2016 and then, so he's not locked up in the Spider-Man cage for a long while. If not, then they'll have to have someone else don the suit and be the new Spider-Man, but in the same series. It happened in the comics, so…
Now, speaking of superheroes…
Disney Infinity
version 2.0 is now out, and pretty soon Disney will introduce… Marvel characters!
Madam Medusa's "swampmobile" at 0:10...
I'm very excited about this, being a huge fan of the game. (About the third part of my review, sorry there hasn't been one.) It seemed like a given as well, plus Disney will most likely get the
Star Wars
universe into the mix soon enough. Since Cap's shield shows up in this teaser, I can assume that he'll be one of the first playable characters to be released. I can also expect the other movie Avengers to be first, and Spider-Man as well since Disney owns the merchandising rights to the character. Sony just has the movie rights…
Anyways, this is exciting news. I'm guessing a Marvel play set will be released sometime this fall, because we haven't gotten a play set since last autumn and there are only six. The game is just going to get bigger and bigger.
One thing though… They should focus on Disney Animation as well. Right now, we just have play sets based on Pixar and Jerry Bruckheimer films. No
Aladdin
or
Lion King
play sets, among many others. To be fair, some WDAS characters like Rapunzel, Wreck-It Ralph, Anna and Elsa are playable characters, but Walt Disney Animation Studios' rich history of animated features needs more attention methinks. I think the developers know this, maybe they've got something cooking and we just don't know…