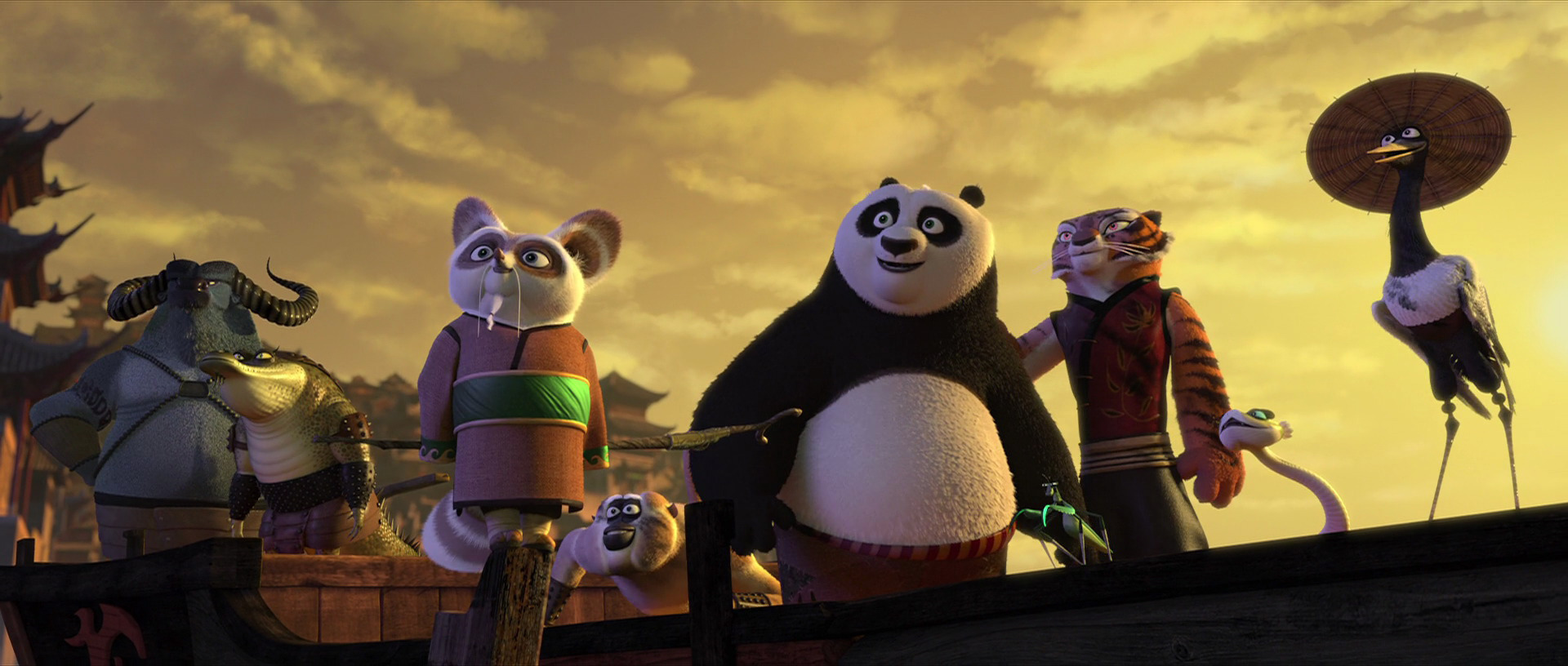 It seems like Fox might finally move
Kung Fu Panda 3
to another release date... Maybe...
For those who don't know...
In the fall of 2012, DreamWorks
unveiled a big slate that went all the way up to fall 2016
. The slate has been changed since then. But back then, a film was slated for December 18, 2015... The studio's still-untitled "Mumbai Musical". (That
Bollywood Superstar Monkey
title is apparently the official title, but nothing's been officially confirmed yet)
Kung Fu Panda 3
was slated to arrive after it, on March 18, 2016.
Months later, in April 2013,
Mumbai Musical
and
Kung Fu Panda 3
switched places.
Kung Fu Panda 3
was now a December 23, 2015 release...
Between September 2012 and April 2013, something particularly big happened in the entertainment world. It had to do with the Mouse House, to... Disney's acquisition of Lucasfilm and the announcement of a brand new
Star Wars
trilogy whose kick-off film would come out in sometime in 2015. Then later that year, in November to be exact, Disney announced that
Star Wars Episode VII
was set to open on December 18, 2015...
Fox/DreamWorks still hasn't moved
Kung Fu Panda 3
... It's been months now.
November 2015 is crowded. Fox opens Blue Sky's
Peanuts
on the 6th, and Disney opens Pixar's
The Good Dinosaur
on the 25th. Big blockbusters like Bond 24 and
The Hunger Games: Mockingjay, Part 1
fill in the rest of the slots. November is a no-go for
Kung Fu Panda 3
... Early 2016 is out of the question... Would DreamWorks release
Panda 3
so close to their March 2016 Mumbai Musical project?
I had mentioned earlier that October was perhaps the best spot for it, because the only competition it'll face there is Disney's live action
Jungle Book
film that's being directed by Jon Favreau. The question is, why hasn't Fox moved the threequel out of the December spot? Do they really think it stands a chance against
Star Wars Episode VII
and other competition like
Mission: Impossible V
? (I'm surprised that Paramount is sticking with that date, but I digress.)
I know that Fox likes to put their releases up against Disney's, usually on dates that Disney claimed first... Some examples...
June 19, 2015:
Inside Out
vs.
The Fantastic Four
(prior to FF moving to June 2015, Fox intended to release
Assassin's Creed
on this day.)
March 4, 2016:
Zootopia
vs. Untitled Ridley Scott Film
May 27, 2016:
Alice in Wonderland 2
vs.
X-Men: Apocalypse
June 16, 2017:
Untitled Pixar Film vs. Untitled DWA/Blue Sky/Fox Animation
To be fair to Fox, they had locked the dates for
How To Train Your Dragon 3
(6/17/2016) and
Kung Fu Panda 3
before Disney picked the dates for their releases.
Dragon 3
had its date long before Disney scheduled a Pixar film to come out that day, and
Panda 3
had the near-Christmas date before
Star Wars
Episode VII
landed on that spot...
But Disney probably won't budge. The summer 2016 Pixar film is
Finding Dory
, and they certainly will not in a million years move
Episode VII
. I keep thinking that DreamWorks will end up having to move their films. To me, it isn't gutsy to release films on the same day. Spacing them out a bit, I think, is the smart move.
So why do I bring this up again? Well, December 2015 lost a family-friendly movie. A Fox release, no less:
Alvin and the Chipmunks 4
.
Originally slated for December 11, 2015, Fox moved the fourth film to December 16, 2016 the other day. Fox had that 12/11/2015 slot way before Disney claimed the Christmas date for
Episode VII
. The fact that they moved it might indicate that Fox will also move the panda out of
Episode VII
's way. It would be a wise decision, because
Kung Fu Panda 2
failed to outgross its predecessor domestically while it had no problem beating it worldwide. Still, DreamWorks should get a good gross from the third film in this series and get the best gross they can get.
Kung Fu Panda 2
, despite getting good reviews and being considered by some as a better film than its predecessor, had the misfortune of being pitted against
The Hangover Part II
. Some may argue that the demographics are different, but the biggest animated films make that big money because of everyone: Kids, families, teens, adults, everyone.
Hangover II
sucked most of the teen and adult audiences away that weekend, which is why the film underperformed. It also didn't help that the marketing was generally lazy and made it look like more of the same, rather than something worth seeing in theaters.
Star Wars Episode VII
hits all the age groups that this movie should hit, everyone from kids to adults. Not to mention,
Star Wars
is iconic, massive, the whole shebang. No need to say more, really.
Kung Fu Panda
isn't anywhere near as big obviously, so I really think that Fox and DreamWorks should consider moving the film if they haven't been thinking about it already. (I doubt they aren't.)
I know these things take time. Sometimes studios move their films many months after big competition lands in the slot they picked, I mean it took Fox this long to delay
Chipmunks 4
. Also, remember the days when
B.O.O.
and
Hotel Transylvania 2
were set to open the same day (9/25/2015)? Remember, that slate was announced back in fall 2012...
Fox/DreamWorks finally moved B.O.O. in May 2013
.
So there is still a lot of time left. December 2015 is over a year and a half way. I wouldn't be surprised if we hear about the release date moving for a little while... I predict that DreamWorks will announce the date change sometime this year, and I think the new date will be October. Maybe October 23rd or something...
One thing is for certain though, they better act fast. Studios snag different dates early on, and little by little, we'll start seeing animated features fill up months like October thanks to the success of
The Lego Movie
. Look at February, it's already a hotspot! The Februaries of 2015, 2016, 2017 and 2018 are all taken.
Do you think Fox/DreamWorks will move Kung Fu Panda 3? If so, what do you think the new release date will be?
If you think Fox/DreamWorks will move it, when do you think they will? Sound off below!