Well here we are,
The Amazing Spider-Man 2
, the sequel to 2012's reboot of the Marvel web-slinger...
As always, there be SPOILERS ahead!
I will admit, I was hyped,
hyped
for this film! I was one of the few who actually really liked Marc Webb's take on the Spider-Man origin story in
The Amazing Spider-Man
. I will flat out admit that I really liked that film, and felt that it was a good retelling of Spider-Man's beginnings while also being a good standalone superhero action film. Many had faults with it, from the Nolan/
Batman Begins
-esque approach to the story to the dark, murky feel. Some others felt it was jumbled and thrown together, while others felt it just didn't work as a Spider-Man film.
Whatever others thought of it, I really enjoyed it, in fact I own it. When I heard that Sony was planning to make a Spider-Man cinematic universe that would introduce the Sinister Six, I was excited. I felt they already did a good job laying some of the groundwork in the first one, from Oscorp's prominence in the story to the mysterious post-credits scene while still focusing on the human story and blockbuster-sized action. Knowing that Sony wants to hold onto the Spider-Man cinematic rights (I would so love to see him in The Avengers, but we know that's a pipe dream at this rate), I could accept that he wasn't going to be with Iron Man, Captain America, Thor, et al.
I was thinking, "If they could do a good Spider-Man series on their own, then color me excited." If Spider-Man couldn't be in the Avengers, then a solid Spider-Man film series with the Sinister Six in it would be a fine alternative. I had mistakenly assumed that Sony would carefully assemble their own big series that would all build up to something grand. After all, they had three more Spider-Man movies in the pipeline plus spin-offs about Venom and the Sinister Six. I didn't think they'd be like Warner Bros./DC, who are using
Batman vs. Superman
as nothing more than a launchpad for
Justice League
rather than carefully working their way up to the big team-up a la Marvel Studios and their cinematic universe.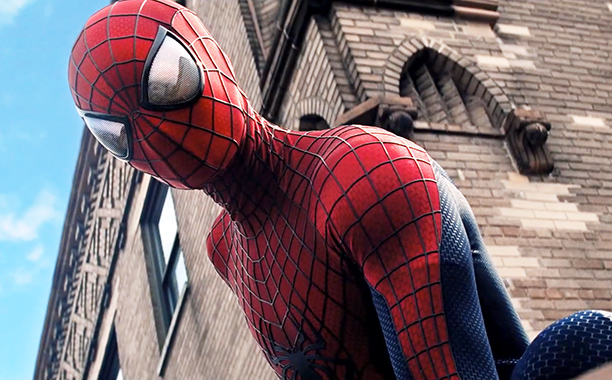 Sadly,
The Amazing Spider-Man 2
indicates that Sony just wants to rush through all of this potentially cool stuff. They want to race right to the Sinister Six, rather than build things up little by little while still focusing on Peter Parker and his life as a millennial facing responsibilities and a famed superhero. This film tries to be too many things at once, and what really should matter in the story feels like it's... Well... Distant.
It opens with a bang. We see what happens to Peter Parker's parents and why they were on the run in the first film's opening sequence; in fact the whole film solves that entire mystery and I felt that plot worked just fine. Then we cut to Spider-Man free-falling and then taking on Aleksei Sytsevich (who of course eventually becomes the Rhino at the end, to set up the third one), all on the day of his graduation no less! All of this works fine, Paul Giamatti's Sytsevich is campy as hell but fun, the action is shot well (it's especially thrilling in IMAX 3D!); it's just a wholly satisfying opening. It's fast-paced, crazy, frenetic and it just works in almost every way (I could've done without some of the cheesier bits, like Peter's phone having a 1967 Spider-Man theme ringtone). It sucks you right in.
But then after that, the film slowly but surely begins to lose it. From here on out,
The Amazing Spider-Man 2
really has no idea what it wants to do or be. It tries to be a true Spider-Man sequel where Peter goes toe-to-toe with an antagonist, but at the same time it tries to be a Sinister Six set-up/launchpad. But wait, it also tries to be a film about Peter and Gwen's relationship and how it runs into problems! Not only that, but it's also about Peter trying to figure out the mystery of his parents! Then there's Electro... Dear lord, Electro...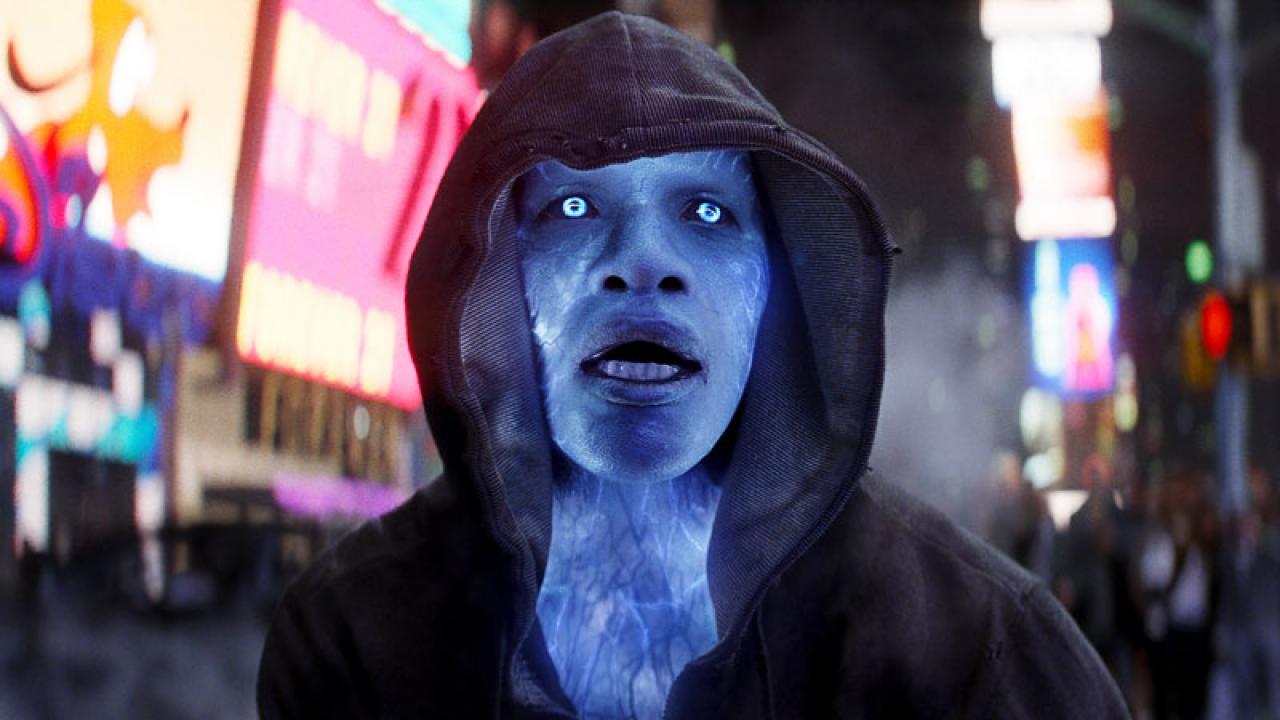 Electro should've been cut from this film, and when I say that, I mean the glowing electrically-charged menace, not the obsessive and unstable Max Dillon. Jamie Foxx does an okay job and the overall design is really cool, but the character himself is very poorly written and contrived, plus he felt like nothing more than a mere gun for Green Goblin to use. Oh yes, Green Goblin? He was fine, Dane DeHaan played him almost perfectly (some of the cheesy stuff gets a little bothersome) and I liked his story arc. It was a bit too fast, but he should've been the sole villain. Getting rid of Electro only would've improved this film, and that is quite telling...
So we've got like, what... 4-5 plots in this 142-minute mess? It felt like they had enough material to fill two movies. That's right, two movies...
Since the film tries to have so many plots going on at once, we lose track of Peter and Gwen's relationship. This really should've been the heart of the film, but because it really isn't, you don't really feel for what's going on. Everything tends to come off as a little cold and even unwelcoming, which should not be the case with a Spider-Man film. For me, the first film had a heartfelt core. Peter and Gwen's relationship was so well-done, and you cared about these two. Unfortunately it's like a minor thing in this film. The relationship runs into problems, but then is back on track, then it runs into problems... By the time Gwen teams up with Peter before the climax, it felt strange, like "Whoa! Where did this come from?" In the first film, Gwen does quite a bit during the climax. She goes into the Oscorp Tower when the Lizard is in there and helps destroy the gas that will turn everyone into man-lizards. Here, she helps Spider-Man defeat Electro, but it just feels half-hearted because she's almost a minor character in the film. Again, a result of the dialing down of the characters' relationship.
Gwen's death, though it was done very well (it got an audible reaction), would've been much stronger and effective if it was the closer to the third one. What if this film was just about Spidey figuring out why his parents left him with Aunt May and Uncle Ben, while also detailing the eventual rise of Green Goblin? Meanwhile, Max Dillon is just a minor character who appears a couple of times while we get little sprinkles of Sinister Six stuff from time to time. (i.e. have some stuff appear in the background, Doc Ock's arms, Vulture's wings, etc.) They could've just focused on Spidey and Gwen, some complications, one villain (Goblin) and the whole parents thing... That would've made for a fine second installment, and then save the Goblin-Electro team up for three and have Gwen killed off in that one. That, to me, would've made for a strong trilogy!
The writers of the first film didn't return to pen the script for this one, instead we get a slapdash script from Alex Kurtzman and Robert Orci along with Jeff Pinkner... Boy does it show. We all know Kurtzman-Orci's track record is spotty, and here, they try to juggle all these plots while also rushing lots of important things. At the same time, they throw in some stupid humor that goes beyond campy while also trying to go for a brooding, mopey tone that hovers dangerously close to
Man of Steel
's awful tone. The story has no consistency, the tone is all over the map, it's a mess through-and-through...
I'm also willing to bet that executive meddling probably happened too.
Spider-Man 3
, of course, was already big and a bit cluttered... Then Venom was shoehorned in by Avi Arad, and then boom, the film was jumbled. If Arad indeed had a lot to do with this film, then all I can say is "Too many cooks!" Disney story man Bill Peet would always warn about this, and when you have too many people handling your story, you are usually screwed. Kurtzman and Orci were already arguably unfit to pen this, then you have someone else writing it and Avi Arad possibly meddling with the whole picture...
Also, the Sinister Six set-up at the end feels tacked on. Goblin talks about how he wants to put together a team to take down Spidey, but he wants to keep it "small". We see cells with Doc Ock's arms, the Vulture's wings, the Rhino's mech suit... Sheesh, they already have the suits developed for these villains! Wouldn't it be cool if all these guys developed their suits at Oscorp or on their own? Seriously. I'm okay with all the evil coming from Oscorp, but this feels so rushed. Almost everything here is just... Rushed!
But whatever happened behind the scenes, the script is overloaded. Like I said earlier, a lot of stuff in here could've been saved for part three. It's like they tried to cram two big stories into this one film, and the result is overlong and inconsistent. Important elements are pushed to the side, and that it deprives the film of much-needed heart and cohesiveness. Now the cooks didn't spoil this soup, but they threw many things into it that I would've left out...
The Amazing Spider-Man 2
does have a lot of good in it. The cast is fine, the action and look of the film is eye-popping (Holy crap! Color! In an action blockbuster!), Green Goblin is alright, the opening and closing are both impressive, there are some genuinely cool moments... This is a film that's half fun, half frustrating. It's just too bad that Sony just wants to get to Sinister Six faster than Quicksilver. What, are they afraid that superhero movies will lose all their popularity after 2020 or whatever? Marvel Studios doesn't seem to give a damn, they have a game plan/slate that currently ends at 2028!
Take... Your... Freakin'... Time...
Same goes for you too, Warner Bros./DC...