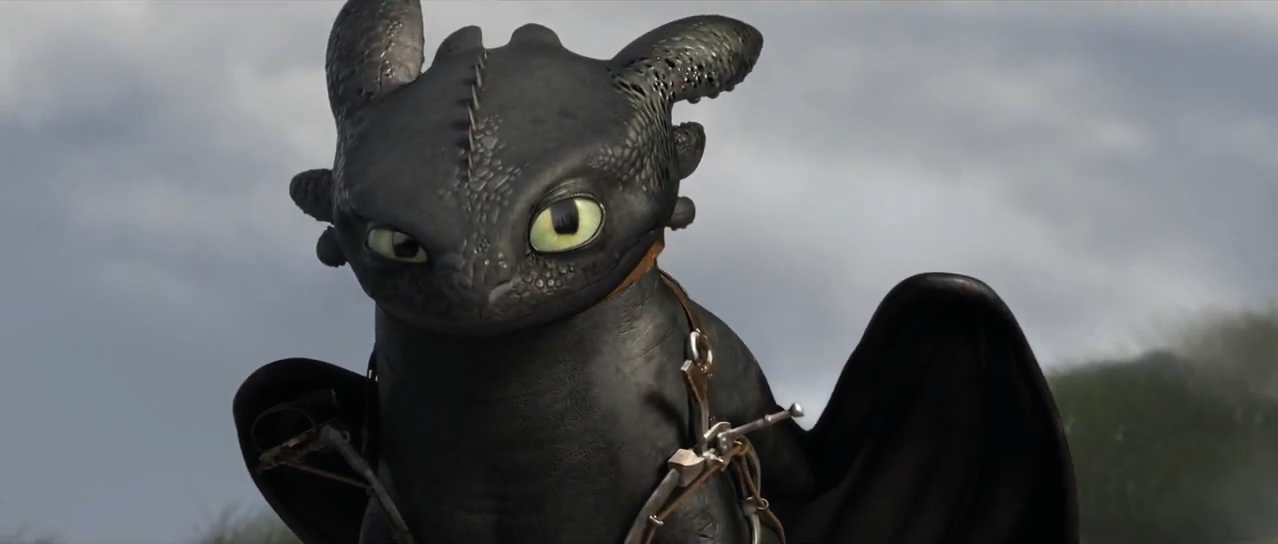 But it did not soar…
What happened?
How To Train Your Dragon
was one of those beloved sleeper hits, a film that had such excellent word of mouth. $217 million domestic is nothing to sneeze at, surely the sequel would've soared on opening weekend, no? $50 million is not bad by any means, it's very good for any animated film… But
How To Train Your Dragon
opened with $43 million back in 2010, this should've opened higher. It had so much behind it: A well-loved first installment, promise of a bigger scope and excellent reviews. This shouldn't have stayed flat, it should've pulled a
Toy Story 2
or a
Shrek 2
!
Once again… Marketing. Fox not only spoiled something that was supposed to be an effective reveal (reportedly against the wishes of DreamWorks), but they committed the same sin that many other marketers do when it comes to animation.
How To Train Your Dragon 2
was marketed as another generic kids film, I'll be the first to say that the trailers (sans that awesome teaser) and commercials did not intrigue me. They were good on first watch, but they didn't stick with me. The commercials did little to get me pumped. It was early screening reviews that got me interested, but going by those trailers alone, the sequel just didn't look all that good. No hint of raised stakes or anything despite showing bigger action, it looked like pretty much the same stuff we saw in the first film. No different from
Kung Fu Panda 2
's marketing! Others say it was the four year gap between one and two (contrary to
Toy Story 3
and
Monsters University
opening big despite arriving a decade after their predecessors, and MU was a prequel no less!), that could've been it, but I think it's more of a case of "The film looked like more of the same".
And much like
Kung Fu Panda 2
, it opened against a highly anticipated comedy sequel:
22 Jump Street
. Like
The Hangover Part II
back in May 2011, it stole most of the teens and adults, leaving the animated film to rely on what it could get. $50 million, however, is still not bad.
22 Jump Street
made $60 million, the
Panda 2
-
Hangover II
difference was a lot wider. Still,
Dragon 2
could've opened higher. Much, much higher. I think Fox is beginning to undersell DreamWorks' films:
Mr. Peabody & Sherman
looked like your typical animated romp, this looked like a retread of what was achieved in
Dragon
. You gotta intrigue audiences, you know? Paramount made similar blunders with multiple DreamWorks films, Fox is doing even worse.
However, this movie will still succeed. $200 million is in sight, because this film has the whole summer to itself. Animated competition doesn't come until next month, and the next big animated release -
Planes: Fire & Rescue
- most likely isn't going to take a big chunk out of it. Worldwide, it's going to dominate.
The film could've been bigger though, and did Fox marketing really have to quote the one critic who declared the film was "Braver than
Brave
and more fun than
Frozen
"? Did they? Was that really necessary? How about taking good-looking footage and editing it together so that it makes the movie *GASP* look good to audiences. How about you do that instead of going the "better than [insert movie here]" route. It's classier and it does a better job at selling the film.
This is not an obituary for the film. $50 million is still very good. This is no failure, this is no underperformer. I just think with all that it had going for it, it would've opened with $70 million or higher. I had projected it would make that much, and so many others did as well. Hopefully it does much better next weekend, there's a good chance it won't dip too hard. It could have a drop below 20%…
Here's hoping Toothless gets to soar.