As you all may know, I've been rooting for DreamWorks lately. I mean, I always do considering that they are one of the animation giants on the market that often makes good films, but they have been going through some tough times as of late. I had recently written some ideas and suggestions, things I'd personally like to see them try out to keep their future feature films successful…
But there's another thing that's always on my mind when it comes to that studio. Their slate…
It's usually always changing, or sometimes the dates they pick seem problematic. Sometimes they've stuck with dates that didn't work out for them, like
Kung Fu Panda 2
's 5/26/2011 spot, which pitted it against
The Hangover Part II
. I'm sure
22 Jump Street
had some effects on
How To Train Your Dragon 2
this past month as well.
Their future slate has some dates like that which bug me. I bet Fox is eventually going to cave and move
Kung Fu Panda 3
and
How To Train Your Dragon 3
. It seems as sure as the turning of the Earth. The former is set to open five days after
Star Wars: Episode VII
, the latter is to be pitted against
Finding Dory
. Fox, I believe, would be wise to announce release date changes now. But
Kung Fu Panda 3
has kept its 12/23/2015 release, even after last November's "
Episode VII
coming 12/18/2015" announcement. Are the people at the studio even thinking of the dates, or are they just waiting for the right time to make announcements?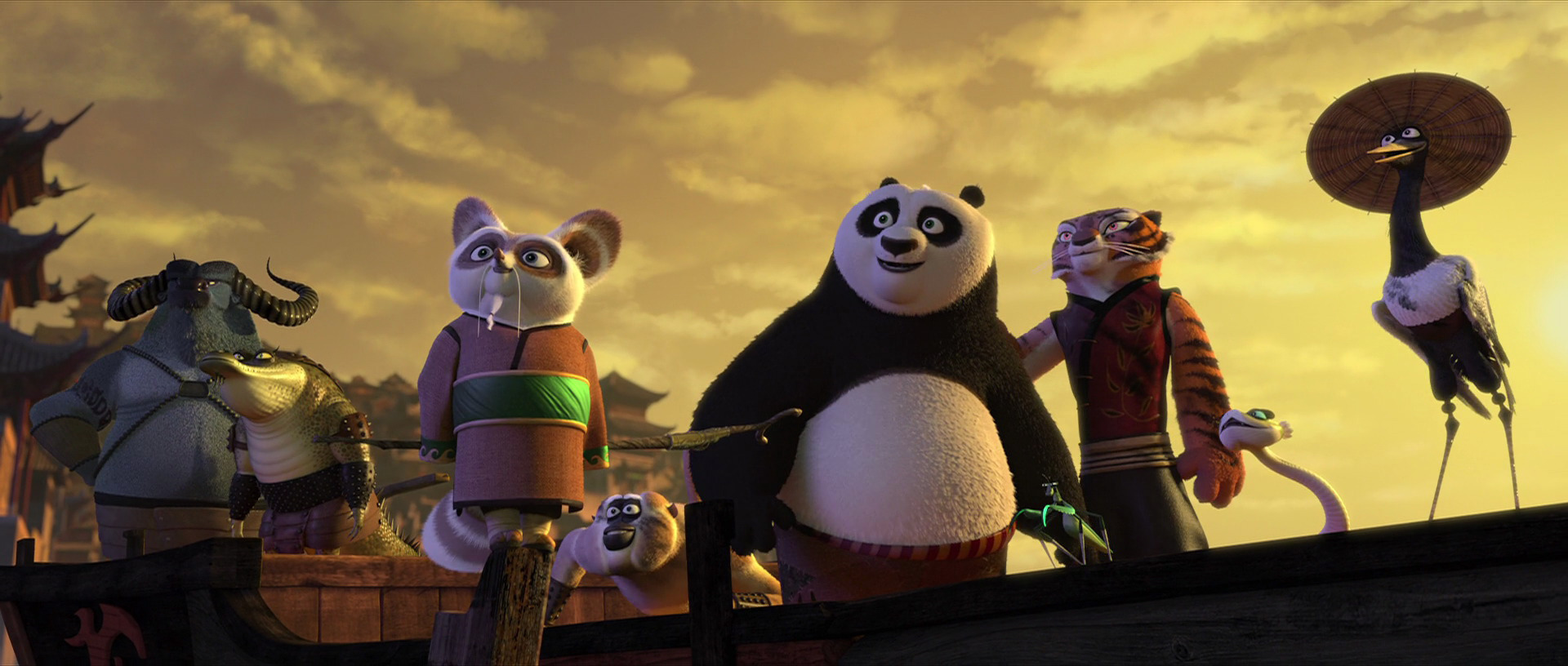 I'm not sure what to say, because they revealed their updated slate last month. It had no changes for any of the 2015 films, which struck me as a little odd. You would think they'd take care of
Kung Fu Panda 3
and
Dragon 3
. Does Fox want to wait and see if Disney will eventually back off the 6/17/2016 spot? After all,
How To Train Your Dragon 3
nabbed that date first in September 2012, while Disney claimed that spot in May 2013 for an untitled Pixar film. A schedule change occurred and now
Finding Dory
occupies the summer slot.
Finding Dory
is most likely going to be a box office monolith, and honestly, with how
Dragon 2
is performing, Fox should be concerned. Not only with the way they market DreamWorks' films, but also with the release dates they pick. 6/17/2016 is not going to be doable, and Disney is not going to budge. The mid-June spot is mostly traditional for Pixar films, and while they could logically move to 5/20/2016, do you think they would? Probably not. This is Disney we're talking about, here.
So, to not beat a dead horse again (as I've talked about
Panda 3
and
Dragon 3
's problematic dates for months and months), I'll cut to the chase…
Here is my final prediction regarding
Kung Fu Panda 3
and
How To Train Your Dragon 3
's respective release dates:
DreamWorks will do a little switcheroo like they did earlier this year. Who would've thought, this late in the game, that
Penguins of Madagascar
and
Home
would swap places? There was even a teaser for
Home
playing before
Mr. Peabody & Sherman
just a mere two months before the switch happened! When their new slate was unveiled in June, a full trailer for
Home
was released, which more than implies that a lot of the film was in the can and perhaps more than ready for a fall 2014 release. That whole announcement just taught me one lesson when it comes to this studio's upcoming slate: Anything can happen.
So that being said, what's being swapped and what's moving?
Well, I have a gut feeling that
Kung Fu Panda 3
will trade places with
B.O.O.: Bureau of Otherworldly Operations
. Why do I think this will happen? Well, the
Kung Fu Panda
series has always been a summer thing. The first and second opened in June and May of their respective years.
B.O.O.
is currently set for 6/5/2015, which is two weeks before Pixar's
Inside Out
and one week after Paramount Animation's
Monster Trucks
.
I also believe that
Kung Fu Panda 3
could be ready for a summer 2015 release. It has a bigger cast than
B.O.O.
's as of now, which consists of three names: Seth Rogen, Melissa McCarthy and Bill Murray.
Panda 3
has the original cast plus Bryan Cranston, Mads Mikelssen and Rebel Wilson. However, that isn't the best indicator of which one is progressing faster. Again, if
Penguins of Madagascar
could be bumped up from March 2015 to this November, it shows that a lot of the films in the pipeline could all be ready at once. I mean, they already had a trailer ready by June! Who knows what the workflow is like at the studio! I bet in, for example, early 2010,
Megamind
(which opened in the fall of that year) was probably already completed and
Kung Fu Panda 2
was probably knee-deep in production!
But you're probably thinking, "
B.O.O.
will face
Episode VII
now?" Nope,
B.O.O.
will be DreamWorks' third 2015 release, but it won't face
Episode VII
. Instead, I think DreamWorks will go against the mold and give it… An October 2015 release!
Think about it. The film is about ghosts, why not release it close to Halloween? They can even have a teaser debut in October of this year saying, "Coming Next Halloween!" I'm guessing a good chunk of it is in the can, an image of the main character (named Jackson Moss) was also featured at the Licensing Expo last month.
So why not? Have
Kung Fu Panda 3
be the summer release like its predecessors, while
B.O.O.
is moved to Halloween. We get the third installment in DreamWorks' great series quicker, while the original has more room to breathe and can use the holiday to its advantage. None has to face
Star Wars
. That's my final prediction…
Home
- March 27, 2015
Kung Fu Panda 3
- June 5, 2015
B.O.O.: Bureau of Otherworldly Operations
- October 16, 2015
Boss Baby
- March 18, 2016
How To Train Your Dragon 3
- May 20, 2016
Trolls
- November 4, 2016
I feel
Dragon 3
's date works because I can't see
X-Men: Apocalypse
hurting it too badly, nothing is currently set to open 5/20/2016. Then you might ask, "What about 5/13/2016?" That could work, though it is the weekend after
Captain America 3
. I guess either one of those dates is doable but have their setbacks, 6/3/2016 could be doable as well. However, adult animated feature
Sausage Party
(from Seth Rogen and Evan Goldberg) opens that day though, and that could steal the teen and adult crowd. (I firmly believe
Hangover II
did just that to
Panda 2
, ditto
22 Jump Street
to
Dragon 2
.)
Also, regarding 5/20/2016, I have a gut feeling that Disney's
Alice in Wonderland
sequel won't be making that planned 5/27/2016 date. It'll be moved to a later summer date. Jerry Bruckheimer thinks
Pirates of the Caribbean 5
could come out on 5/20/2016, I doubt that will be happening. That project is taking forever to come to fruition (meaning: production), but just in case it somehow begins filming soon for a 5/20/2016 release, DreamWorks ought to nab that spot first.
Even if both open the same weekend,
Dragon 3
will most likely not be affected because the POTC franchise has been seeing diminishing returns since
Dead Man's Chest
.
On Stranger Tides
was the first in the series to miss $300 million domestically, it didn't even crack $250 million! I can't see audiences getting geared up for another one since three and four mostly left them unsatisfied, and also because a 2016 POTC 5 will be five years too late.
That being said, either 5/13/2016 or 5/20/2016...
Also, I think
Alice in Wonderland 2
is definitely going to move. It's also more likely to be released in summer 2016 than
Pirates
anyway, I can logically see that film opening no earlier than summer 2017. Then you may be wondering… What about all those other summer 2016 releases? Well, I think 2016 is going to lose a lot of the movies it currently has. I mean c'mon…
Independence Day 2
,
Angry Birds
,
The BFG
and
Tarzan
all opening on July 1, 2016? Forget it, not happening.
Batman v Superman
isn't opening against Cap,
Alice 2
is moving, I bet we'll see some other stuff hit the road for 2017 as well.
So far, I'm thinking…
Captain America 3
- 5/6/2016
How To Train Your Dragon 3
- 5/13/2016 *or* 5/20/2016
X-Men: Apocalypse
- 5/27/2016
Sausage Party
- 6/3/2016
The Sinister Six
- 6/10/2016
Finding Dory
- 6/17/2016
Angry Birds
- 7/1/2016
Alice in Wonderland 2
- 7/8/2016
Ice Age 5
- 7/15/2016
Batman v Superman
- 7/22/2016
Doctor Strange
- 8/12/2016
It's quite a competitive world when it comes to these release dates, but I feel the dates I have chosen will work out for DreamWorks. A lot of those 2016 releases that are currently set in stone are bound to change. We saw it happen to 2015, it'll happen again.
What do you think should be done?