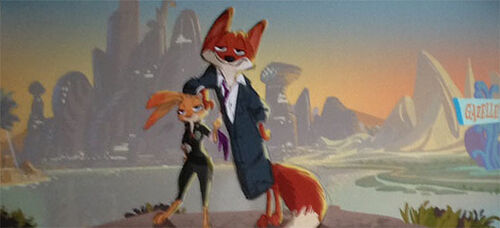 Disney's Animation Research Library posted this arguably revealing interview on Facebook today...
Scheduled for a 2015 release? This raises a few questions…
As we all know, Walt Disney Animation Studios'
Zootopia
was first unveiled at last summer's D23 expo, though folks like Blue Sky Disney's Honor Hunter broke the news of the title and who will be voicing the lead (Jason Bateman) months earlier. Bleeding Cool spilled details on the project as far back as 2011. However, the title currently doesn't have a release date inked.
Walt Disney Animation Studio's post-
Big Hero 6
slate consists of four release dates, but it is right now not determined what films will be ready for release on those dates: 3/4/2016, 11/23/2016, 3/9/2018 and 11/21/2018.
According to Blue Sky Disney last summer, the first three slots were going to hold
Zootopia
,
Giants
and
Moana
in that order. The last spot was originally going to hold a Dean Wellins-directed sci-fi epic, but now that film is going through development hell again as of last September. Disney hasn't uttered a word on
Giants
or
Moana
, at least not directly. The unveiling of
Zootopia
came right after the
Big Hero 6
presentation at D23…
Well, put the puzzle pieces together and it would seem like
Zootopia
will be the 3/4/2016 release.
Either the 2015 mention is a typo, or Disney plans to announce a 2015 release date for the film soon. But this doesn't add up…
Disney's 2015 slate is pretty much determined. Marvel dominates May and July with
Avengers: Age of Ultron
and
Ant-Man
respectively,
Star Wars Episode VII
opens in December. Pixar has one film set for June and another for November, which is why Disney Animation currently doesn't plan to release any films in 2015, Pixar shut them out of that year and 2017 as well. March is locked by
Cinderella
-Live Action,
Tomorrowland
occupies the mid-May slot.
However, it is possible that something moved and we don't know about it yet. It wouldn't be
Star Wars
, because Iger reportedly demands that it hits in 2015 no matter what.
Ant-Man
? Heck no,
Ant-Man
begins filming next month with its new director and they are most likely planning to make that 7/17/2015 release date no matter what. I doubt
Tomorrowland
is moved to give
Zootopia
the 5/22/2015 slot.
The Jungle Book
is set for 10/9/2015, that could possibly move, but that's up in the air.
So that leaves the two Pixar films.
Inside Out
isn't going anywhere, it's locked in that summer spot.
The Good Dinosaur
, given its production problems/director change and subsequent restart, could move to the 3/4/2016 spot while Disney's film, if indeed more-than-ready for 2015, takes the 11/25/2015 spot. No different from
Wreck-It Ralph
, which was once set for 3/22/2013 but was in good enough shape to move up to 11/2/2012. The slot's original holder, Pixar's
Monsters University
, was pushed back to summer 2013, DreamWorks grabbed the vacant March slot with their
Croods
.
I could see that happening, actually…
Walt Disney Animation Studios currently aims for the November/fall spot these days:
Bolt
,
Princess
/
Frog
,
Tangled
,
Wreck-It Ralph
,
Frozen
,
Big Hero 6
, untitled 11/23/2016, untitled 11/21/2018…
Pixar can also start testing dates they've never tried before outside of summer and autumn, a March release for one of their films would mark a major change of pace. I think they should do this too, because I can't see them releasing a film like Lee Unkrich's 'Day of the Dead' film outside of October, because the actual holiday the film is based on occurs from Halloween to November 2nd. A summer release date would seem kind of off…
3/4/2016 isn't way too close to
Finding Dory
's 6/17/2016 release date, so it could be doable. But we have to wait and see what happens, we have to see what's ready to move forward or backwards. If
The Good Dinosaur
moves there, it would give the crew some extra time to tweak the story and everything else. We shall see…
So what do you say? Typo? Or is an animation slate shift coming?
UPDATE (7/16):
The ARL has changed 2015 to "2016".
So we can all go back to assuming that
Zootopia
will be Disney Animation's March 4, 2016 release…