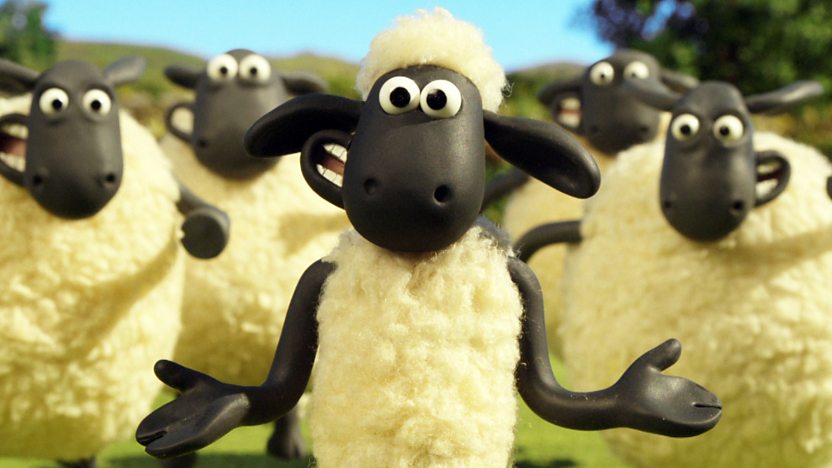 Aardman's next animated feature will be their first in nearly three years, a film based on their hit TV show
Shaun the Sheep
…
When is it coming out? Well, Europe is getting it in a matter of months. The film is now set to open on February 6, 2015 in the UK. Here in America, we're getting the
SpongeBob
movie sequel on that same day. Not as exciting! No US release date has been inked, and no American distributor is backing it… The movie is mere months away!
Of course, the truth isn't all candy and rainbows. Aardman's films, minus
Chicken Run
, never really scored much success here. From what I can remember,
Wallace and Gromit: The Curse of the Were-Rabbit
received a decent, by-the-numbers marketing campaign. I remember the TV spots emphasizing the
Madagascar
penguins short that accompanied it. (that was probably intended for
Madagascar
's near-holiday DVD release, not
Wallace and Gromit
and its early October release!) It opened with a rather meager $16 million on its opening weekend. Pretty low for an animated feature at the time… No amount of good word-of-mouth could propel to the $100 million mark stateside. The modestly-budgeted film made it all back around the world, thankfully.
You'd think it would open well, but audiences must not have been intrigued by the trailers and TV spots that they saw.
Flushed Away
must've suffered the same problem, and DreamWorks put a lot into marketing that film too! It also had very strong legs at the box office despite an awful opening and sleeper hit
Happy Feet
being in the way…
Aardman and DreamWorks split over creative differences in 2007, the British studio headed to Columbia/Sony Pictures Animation. They inked a deal, one that was extended after 2010 considering that the studio didn't have a production ready before then. The kick off was 2011's excellent
Arthur Christmas
, but Columbia's marketing didn't sell the film and thus it underperformed… One of the greatest Christmas films, and barely anyone in the states saw it. I remember when I saw it in theaters with my friend, there were around 4-5 people in the theater and we were the only ones laughing at the jokes.
The Pirates!
was a hard sell to begin with, and the trailers didn't help. The source material is apparently bigger in the UK, I don't know any American who knows of the books the film is based on. I suspect that American audiences saw it as a kiddie version of
Pirates of the Caribbean
or something. It opened poorly and had pretty weak legs, the release date was bad too (a week before
The Avengers
, which probably sucked away whatever audience this film had), but it wasn't your typical animated film. The humor and style of it inevitably didn't win over American audiences, not to mention the US got a censored version that removed some of the more adult-oriented humor. Again, my friend and I were perhaps the only audience members out of like 5-10 that laughed at the jokes.
Sadly, there's a pattern there.
Flushed Away
cracked $60 million,
Arthur Christmas
couldn't make it to $50 million with inflation, 3D and all.
The Pirates!
barely made it past $30 million… It's possible that the wonderful studio's work is viewed as box office poison in the US. I also don't know any American who has seen or heard of the
Shaun the Sheep
TV series.
So, does an independent house pick up the film now? GKIDS? Weinstein? Lionsgate, maybe? I'm leaning on GKIDS, personally, but that means the film won't get a very wide release. Their widest release, Studio Ghibli's
From Up on Poppy Hill
, was shown in 49 theaters across the US and Canada. Maybe if GKIDS does pick it up, they could give it a wider release than usual, but that's probably asking for too much.
Animation writer/show runner/site proprietor
Mister Coat
had suggested to me on Twitter that Universal could perhaps be the distributor…
That's plausible, actually. In this day and age, big distributors are content with having more than one animation studio. Disney's got four (Disney Animation, Pixar, DisneyToon and Lucasfilm Animation), meanwhile Fox has DreamWorks, Blue Sky, Fox Animation and it's possible that Reel FX will be one of their players. Columbia had both Sony Animation and Aardman at one time, and Warner Bros. has a group of cooperating studios. (
The Lego Movie
was mostly produced in Australia at Animal Logic.) Maybe Universal can make room for another animation studio, since their Illumination keeps the budgets lower on their films. If not Universal, then maybe Paramount, but they seem to have a full plate: Nickelodeon stuff,
Tintin 2
, their own original projects, the Spanish animated films they recently acquired, and so on.
Whoever gets it, I just hope we get to see it on the big screen. I also don't want the distributor to water it down for American audiences or re-dub any of the voices, like how Columbia (or Sony Animation?) did with
The Pirates!
, that was low.
What do you think will happen?