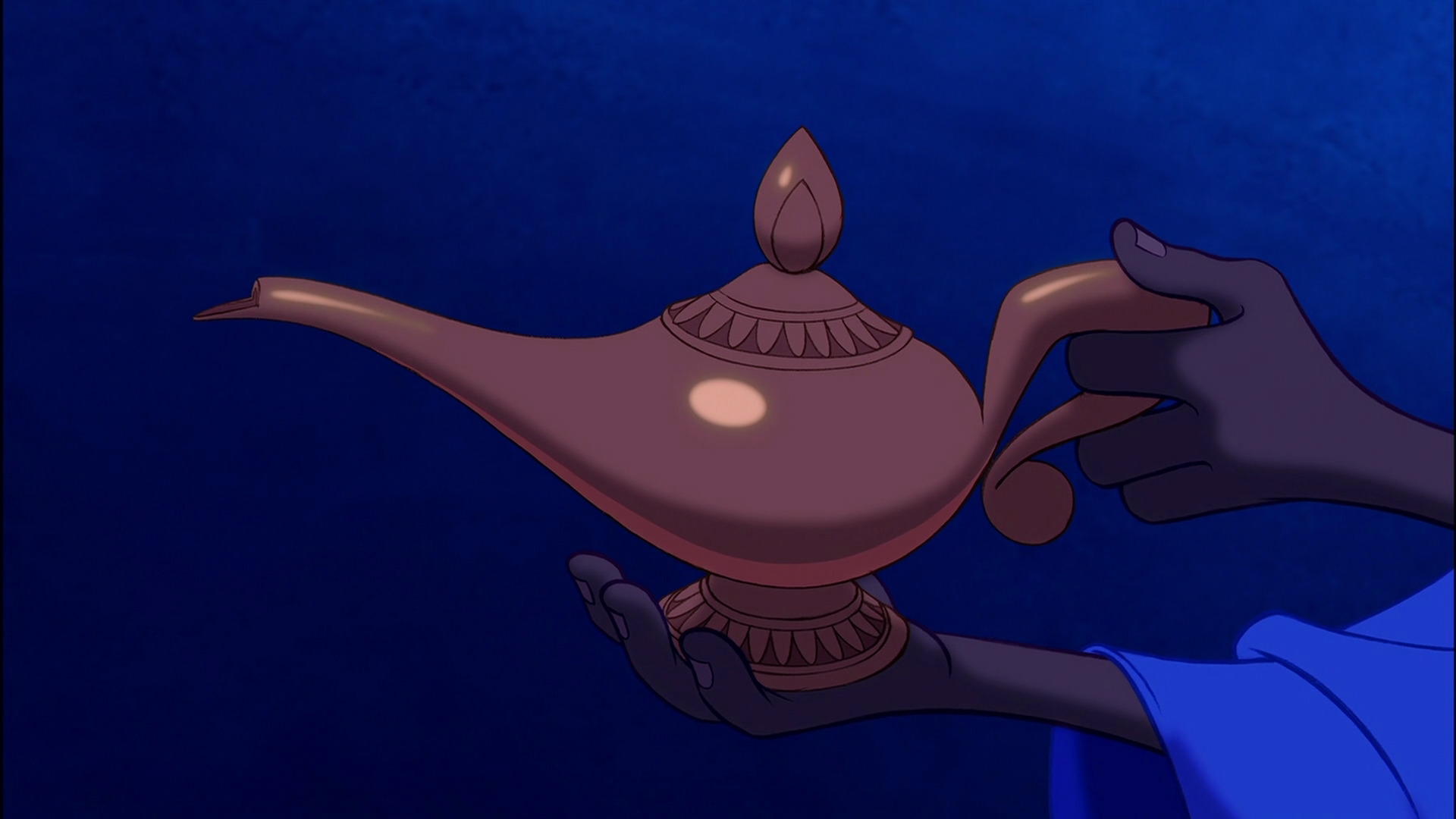 You know how a lot of us clamored for a theatrical re-release of one of Disney's most recognizable and successful films? Well, it appears that we will indeed get one…
Fellow Disney fan/blogger Iry, writer over at Italian Disney blog
Impero Disney
, got
the information
on the re-release… Promo art that's in English, implying that the re-release will be a US event and not a Europe-only one like
Beauty and the Beast
was back in 2010 (we ended up getting in 2012, after its 3D Blu-ray release):
I'm not sure where this card comes from, but according to the poster on the forum, the re-release will precede a fall 2015 Blu-ray release, presumably a Diamond Edition.
Aladdin
is already available on Blu-ray in Europe, so I assume this is for an American release. But here's the thing that's confusing me…
"On Cinemas"? Shouldn't the card say "IN Cinemas in 3D" and "On Disney Blu-ray" instead? Or am I just being a grammar nazi? Is it fan-made? Perhaps, but it does look legitimate to some degree. After all, the heading says "Disney" since Disney is content with not having "Walt" and "Pictures Presents" in their promo art/covers anymore, a lot of fan art usually shows the complete heading so you can tell right away that it's custom made.
Also, Disney seemed to have pulled the plug on theatrical re-releases following their foolish decision to re-release widely available Pixar films and not the Disney classics sitting in the vault that everyone wanted to see, like this film and
The Little Mermaid
, which almost hit theaters in 3D last September. (Though it's possible that a theatrical re-release of Pixar's
The Incredibles
3D is in the cards.) Every time I mentioned this whole re-release strategy to people I knew, I'd always get a "They should do that with
Aladdin
!" response. Shows how popular
Aladdin
still is with the American public, it's as much of a go-to Disney film as
Beauty and the Beast
and
The Lion King
are, though reportedly a good half of Disney feels that the film isn't all that hot anymore. I beg to differ, especially after Robin Williams' untimely death…
Aladdin
may not have aged well because of a lot of the film's pop culture references, but people still go back to it because the story is great, the music is spectacular, the comic energy is perfect, and the Genie is still funny when not making pop culture references. He's just a blast on the screen. No one has ignored
Aladdin
, and I don't care how the Platinum Edition DVD may have sold, people still love the movie. After Williams died, the Genie was everywhere, I saw him more than Mrs. Doubtfire or Patch Adams on Facebook, Twitter, featured images of articles, all around the Internet. The Genie alone is engraved in American pop culture, the film is still very relevant and I bet if Disney re-released the film before its upcoming Blu-ray release, it would make
Lion King
3D numbers. Oh, not to mention
Aladdin
on Broadway…
It's also interesting to note that
Aladdin
was originally going to get the "Special Edition" treatment last decade. In 2002, that all began with an IMAX exclusive re-release of
Beauty and the Beast
which preceded the film's Platinum Edition DVD. The version projected in early 2002 on those big screens contained the "Human Again" musical number, among some other alterations.
The Lion King
with an added musical number followed in late 2002, with the DVD coming in 2003.
Aladdin
was supposed to be next, but it fell through.
The Little Mermaid
and
Pocahontas
IMAX were also reportedly in the can.
So I hope, I really hope that this film gets a theatrical re-release next year. I certainly hope that Blu-ray date is true too… However, it is possible that the card may be fan art, so I'll update you all when Iry gets more information and finds the real source of the artwork…
Until then, fingers crossed!
UPDATE (2:41 PM):
Iry found the source of the image:
A Spanish Disney blog
says that the release will come on September 1, 2015 with the Blu following in October… Sounds about right, and
Aladdin
would work as the fall 2015 Diamond at this rate. (I'm guessing spring 2015's Diamond is going to be
Dalmatians
.)
However, that date doesn't line up. September 1, 2015 is a Tuesday… September 4th sounds about right.
Also, why would the news of a North America-only re-release surface outside the US first? How would a blogger over in Spain know? Was info leaked to him/her? Kind of strange…
That being said, I'm still hoping this is all true. Walt Disney Animation Studios doesn't have a new film coming in 2015 (Pixar's occupying the summer and fall slots that year), so a re-release of one of their classics can certainly fill the void. Especially something audiences really want to see on the big screen again, like
Aladdin
. 90s nostalgia also seems to be in full swing right now too, so a 2015 release would be a wise decision on Disney's part. (Again,
Beauty and the Beast
3D didn't replicate
Lion King
3D's numbers because it was available on Blu-ray and Blu-ray 3D, unlike
Lion King
which entered the vault 6 years before the re-release.) It can see this doing gangbusters numbers, and maybe if grosses
Lion King
numbers… Well ya know, traditional animation coming back at Disney. Oh wait I'm asking for too much… Sorry, moving along.
If they indeed re-release
Aladdin
, it'll be a little bit like the pre-Renaissance years. Why, well you didn't get a Disney animated film every calendar year, but you got a re-release of a classic almost every calendar year. Let's look at
The Rescuers
and
The Fox and the Hound
- the former debuted in June 1977 and the latter in June 1981. What was re-released between the two?:
The Jungle Book
(6/9/1978),
Pinocchio
(12/16/1978),
101 Dalmatians
(6/7/1979),
Sleeping Beauty
(9/28/1979),
Lady and the Tramp
(3/7/1980),
The Aristocats
(12/19/1980), and
Alice in Wonderland
(4/3/1981).
Updates will come...