I assume that the person behind the
Moana Waialiki Tumblr
page must've read my speculation piece on future Walt Disney Animation Studios films, or others ran with what I wrote… Because
this was posted last night
… Remember, he/she works for the studio…
First up, the writer mentions
The Name Game
and states that it does not exist…
"First up: The film The Name Game doesn't exist. Never has, and probably won't in any form for awhile, we have a full slate. The way the studio works, we're all very interconnected. People take notes on each other's films, giving tips on what to change, or just point out what's good. This can be in any form, from storyboards and concept art, to actual shot scenes. And while not all of us are in the story team room, stuff trickles out. So, to a rough extent, we all know a little something about most of the films in development. And through this, I can definitively say The Name Game never existed. After Mort was canceled, Clements and Musker jumped right into Moana, which is when I was originally brought on the project. Unless it's being developed in some secret ro
om only John Lasseter can see, it should be pretty safe to assume that."
This is good to know to answer, considering that this Rumple project has never been mentioned anywhere else. I had a feeling it wasn't real. Again, it wasn't ever mentioned by Honor Hunter on Blue Sky Disney, or any other site.
I know that after
Mort
didn't go through, Musker and Clements reportedly pitched three ideas to Lasseter,
Moana
being the one that Lasseter liked the most. My assumption was that someone else - not Ron & John - was tackling
The Name Game
at the time, but alas it's not a thing…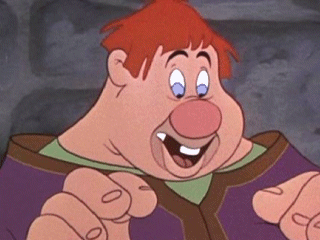 Now as for Giants being a fall 2016 release or not…
"Another thing I wanted to clear up was about Giants. I did mention that they're in voiceover casting at the moment, and that is true. However, this doesn't mean you should expect the movie to arrive on the original November 2016 date. In honesty, Giants has been shaky. The story is there, and it has great heart, but it just isn't clicking. Voice casting can be made many years before release, depending on who is at the helm. At this point, a variety of things could happen. Moana could come out before Giants, or Giants before Moana. We're talking a release from anything between 2016 and 2018."
Bumps in the road are nothing new for animated films (Frozen is a particularly fine, recent example), but this gives me a whole new perspective on the 2016-2018 WDAS slate…
In fact, I keep saying that it was very smart of Disney Animation to not outright tell us what's coming out on all of those exact dates because something like this might happen to one of the projects somewhere down the line. They unveiled the full slate of untitled films back in May 2013, and haven't made a peep since. This is good, because again, if they did in fact officially (as in, announce to the public) schedule Giants for fall 2016 and Moana for spring 2018 back then, and then there was a production hiccup that caused the two to swap spots, there would be disappointment for those who are really anticipating Giants.
So yes, it's not set in stone and I believe WDAS wants us to know that, too. Giants could be feature #56, or Moana could be feature #56. The latter excites me more since it's an original story and I'm excited to see Polynesia brought to life through Disney's animation, but I think Giants has a lot of potential as well. If one of those films needs more time, I'm okay with that. "You can't rush art!"
Heck, Zootopia still hasn't been slated for that 3/4/2016 date. The writer added…
"Also, one little tiny tidbit I wanted to throw in: Zootopia is doing very well. It could release in November 2015 if the suits let it, but next year Pixar is making a big splash with 2 films, so that isn't happening."
I had
gone over that a little while ago
when the Disney Animation Research Library accidentally mentioned on their Facebook page that
Zootopia
would come out in 2015 when highlighting one of the animators who is currently working on it. But it's good to know that
Zootopia
could possibly be a fall 2015 release, but that would mean for Pixar's already long-delayed
The Good Dinosaur
to be delayed again, and I don't see that happening. I think it'll ultimately be the 3/4/2016 release.
But one thing is for certain, and has been since the D23 announcement last summer, Zootopia is WDAS Feature #55. In fact, Disney revealed the other day that the animators are going on safari for research!
Thanks for clearing up the confusion, and best of luck on future endeavors. I'm hugely anticipating what the Burbank animation powerhouse has in store…