In a recent interview, Pixar President Jim Morris gave us some very interesting details on
Toy Story 4
...
The interview comes from Disney's
Latino news blog
, so the translation I got was rather rough. In it, Morris talks about
Inside Out
, things about Pixar's people, and also reveals some things about the upcoming sequel. On a side note, I assume it'll be a main attraction at this coming summer's D23 Expo. I mean, Pixar will have to drop some big details very soon...
Morris says that the studio thought they wouldn't do a
Toy Story 4
, until an idea came up at a brainstorming session. He also mentioned that it will be a "romantic comedy"... Well, the writers of the new film are Rashida Jones and Will McCormack, and they wrote (and starred in, in Jones' case) the romantic comedy-drama
Celeste and Jesse Forever
. We were told that it would be a love story back in November, when the film was first announced. Again, that's one aspect about this sequel that makes me happy - it doesn't sound like the other
Toy Story
films where there's the end goal of getting back to Andy's house before something happens, but each film in the trilogy is unique.
However, that's not the most interesting part of the interview... Morris then added that he thinks that this fourth entry is not part of the
Toy Story
trilogy... I repeat: NOT part of the
Toy Story
trilogy...
"It is not a continuation of the end of Toy Story 3...
It will not make much focus on the interaction between the characters and children...
I think this movie is not part of this trilogy. It is a separate story, which in turn do not know if will be continued. Never begin a project with that in mind."
Not part of the trilogy?
I'm guessing that Morris is implying that Bonnie and other humans aren't going to be in this as much. They won't have prominent roles or anything. One of the big themes of the series is "what does it mean to be a toy?", another theme is the value of being played with and making children happy. Heck, even the latest
Toy Story
TV special had an ending that really emphasized this. Drifting away from those core ideas will probably rattle some cages, but at the same time it's interesting that Pixar wants to make this film seem like a standalone entry rather than a direct follow-up.
Morris also said,
"John it seemed irresistible felt the need to do it. The third movie was over in a beautiful way and completed a trilogy."
To me, that's the way to go. I guess that the Pixar story geniuses realized that following up such an excellent trilogy closer was no easy task and quite frankly should not be done, so they're just going to tell a story that they love with these characters. Keeps the Disney bean counters happy, and shockingly I'm okay with this, though personally I would love a fourth
Toy Story
that has nothing to do with any of the films or even the specials. When I say that, I mean... A film where the toy characters we know and love aren't playthings! Just imagine... A Wild West epic starring Sheriff Woody and the round-up gang! Or a space opera about Buzz Lightyear and Star Command, not dissimilar to the animated series
Buzz Lightyear of Star Command
! Or how about a combination of both? A sci-fi western with the Andy's/Bonnie's room gang!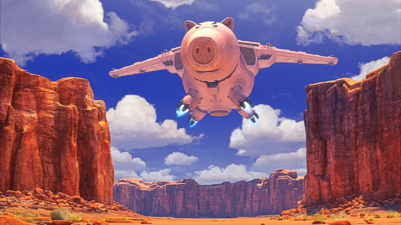 I always felt that this was the perfect route to go for a fourth film if one HAD to be made. Either that, or a film focusing on a brand new set of toys that have no connection to Andy, Bonnie, or the gang.
So this is essentially a standalone
Toy Story
film, not really a "
Toy Story 4
". Yes, it's the fourth
Toy Story
movie, but it's not meant to be a direct continuation from the end of the last film.
Toy Story 3
is still the true ending of the major
Toy Story
story. Since we now know what kind of film this will be, I'd almost treat it like a spin-off or something. Something along the lines of the shorts and TV specials. I mean, they'll probably stick with that title, but I say they shouldn't. Then again, when
Monsters University
was first officially announced in spring 2010, it was called
Monsters, Inc. 2
. Makes one wonder why Pixar (or Disney) didn't outright reveal that it was a prequel, not a sequel. I guess they want to toy (pun shamelessly intended) with fans.
As for the film itself... Am I excited? No, not really. Am I dreading it? Not at all. I'm just going to wait for the reviews to come out, even if that won't happen for another 2 1/2 years. This has A LOT to live up to, but at the same time, Pixar kind of relieved themselves of such pressure by making it a standalone story. I mean, that's kind of new, right? We want Pixar to take risks and try new things, and I think they're doing just that with this film. Instead of going the traditional route and making a new chapter of the big story, they're just going to tell a little story that's it's own beast in a way.
Again, I feel that it shouldn't be called
Toy Story 4
.
What do you think of these new details?