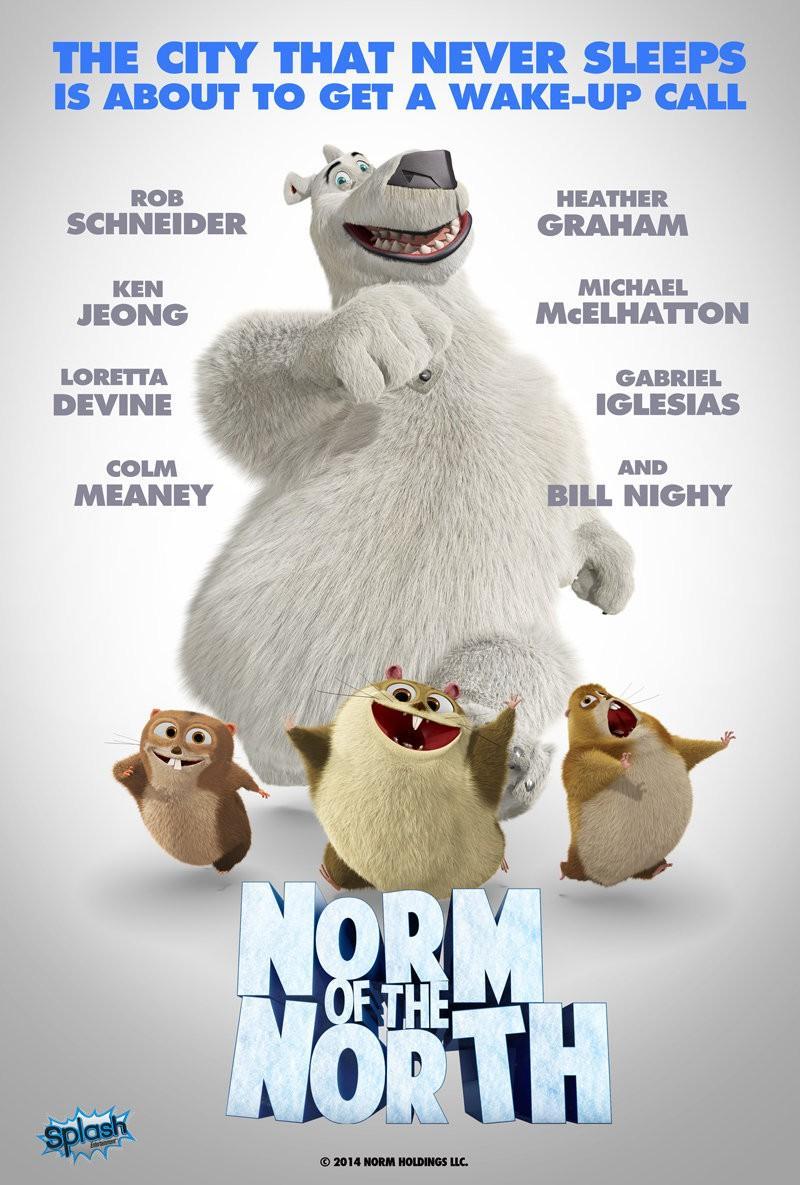 I remember hearing about
Norm of the North
a while back, a story about a polar bear that was supposed to be done up at Crest Animation, the studio that made
Alpha and Omega
. For a while it was pegged for January 2015, but as time went on, we heard little about it. It was like one of those
Bunyan and Babe
-type animated films where animation was completed, but nothing really came of it.
Lionsgate then picked up the movie and slated it for January 15, 2016... The same day as
The Nut Job 2
. Not like either film is going to be a blockbuster, so I suppose having them opening the same day isn't that big of an issue.
The studio behind it is Splash Entertainment, a subsidiary of MoonScoop (
Code Lyoko
) who has done kids' shows in the past, some CG and some 2D.
Norm of the North
, no surprise, looks and feels more like a direct-to-video animated flick for the kids only. It makes me think of some movie that they'd show on Cartoon Network or Nickelodeon on a weekday morning...
I don't know about you, but this plays out like an animated film made in the mid-2000s that's not from Pixar, Disney, DreamWorks, or Blue Sky. Long before Sony Animation and Illumination established themselves as legitimate players in the field. No, this reminds me of movies like... Let's see...
Barnyard
,
Everyone's Hero
,
Happily N'ever After
, stuff like that. Kiddie flicks that really should've went straight to video, but got theatrical releases and tried very hard to appeal to bored parents, rather than just being good movies for everyone to begin with.
The Nut Job
and
Strange Magic
, both January animated releases, also reminded me of that very era. This seems to be no different.
You got your wisecracking animals doing very human things, lame puns ("Caribou-yah!"), you've got a group of Minions-like lemmings (that squish gag wore thin, fast), big bad humans invading the wilderness, poor attempts at satire, toilet humor (haha the lemming farted! Comedy gold!), oh... And a star-studded cast!
Yeah, I don't think it looks very good. Looks like your typical "kids" film, where it has to be mindless and silly, checking all the boxes. Kids deserve better, so do we. At least the animation is okay for a lower budget feature and I don't mind the character design too much, but... Looks like a pass.
What say you?