20th Century Fox, distributors of DreamWorks' films since 2013, has rearranged their whole movie slate. Two DreamWorks films have been moved...
The first of which is
Boss Baby
, the romp based on the children's book of the same name. The film, up until now, was set to open on January 13, 2017. Now it's set to open on March 10, 2017. Another DreamWorks film had that slot...
Captain Underpants
.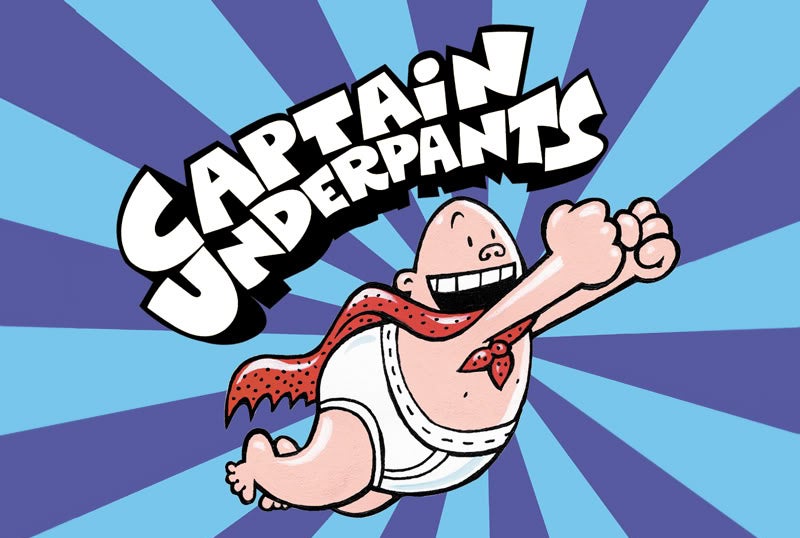 The film has been delayed indefinitely. It's in that rather uncertain "TBD" phase...
This comes as no surprise, because the film lost its director back in March. Rob Letterman (
Monsters vs. Aliens
,
Goosebumps
) was set to direct it, with Nicholas Stoller (
The Muppets
) writing the script. No replacement was announced since, though
it was implied that Turbo director David Soren would be the one to get the gig
. Maybe he is the current director, but I didn't see that get announced anywhere.
Captain Underpants
is also interesting because when DreamWorks whittled down their release slate at the beginning of this year,
Captain Underpants
went from in-house production to co-production. The film will be mainly produced by Canadian studio Mikros Image for a significantly lower cost. DreamWorks' main in-house films, starting with
Trolls
, will cost $120 million. I liked this idea a lot, actually: Two big-scale DreamWorks films every year, and a smaller - possibly experimental - film in-between. I had suggested it many months before DWA revised their entire slate.
Now that it doesn't have a release date, it's possible that the project may go the way of the dodo... Or the way of scrapped DreamWorks projects like
Monkeys of Mumbai
. (A film I'd rather see than
Trolls
and
Boss Baby
, but I digress...) I think for the time being this is a good thing, for DreamWorks is still on their slow road to recovery and perhaps a third movie release in 2017 isn't a great idea at the moment. Perhaps focusing on the main stuff (
Boss Baby
and
The Croods 2
) is better for them until they get it together.
It's also surprising to me that Fox still hasn't moved
Trolls
out of the 11/4/2016 slot. As I said a few articles back, opening it - a $120 million family film that probably has to make over $300-350 million worldwide to be a success for the recovering studio - against guaranteed Marvel smash
Doctor Strange
is a bad idea. Mid-October would be a much better place for this film. If it looks good to parents, I guess they won't be in too much trouble, since that's the audience Jeffrey Katzenberg is after rather than the whole smorgasbord that any family-friendly animation studio should go after. I argue the studio should aim higher, but that's another rant for another day.
Then again it took Fox/DreamWorks forever to announce a good release date for
Kung Fu Panda 3
. For many months it was set to open five days after
Star Wars: The Force Awakens
, which obviously would've
crushed
it. Late in the game (as in, roughly a year before
Force Awakens
' opening) they finally moved
Kung Fu Panda 3
to a better slot. (First it was 3/18/2016, now it's 1/29/2016.) I suspect in a few months we'll get a new and better release date for
Trolls
. Like I said, mid-October. Maybe now that
Boss Baby
has moved, it'll go to 1/13/2017.
Anyways. The current slate...
01/29/2016 -
Kung Fu Panda 3
11/04/2016 -
Trolls
03/10/2017 -
Boss Baby
12/22/2017 -
The Croods 2
Q1 2018 - Untitled Oriental DreamWorks Film
02/16/2018 -
Larrikins
06/29/2018 -
How To Train Your Dragon 3
What do you think of these decisions? Where would you slot
Trolls
? Sound off below!