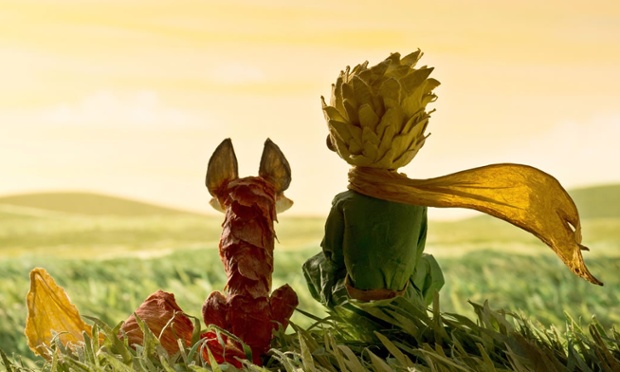 It looks like the Prince is finally arriving to the silver screen in some way or another...
Earlier this year, Paramount was set to distribute
The Little Prince
. A French animated production based on the classic French novella of the same name, it was a visually nice combination of computer animation and stop-motion, from
Kung Fu Panda
director Mark Osborn. It got several accolades when released in the summer of 2015 in Europe, the $80 million picture went over well at the international box office, but Paramount sat on it despite lowkey announcing in mid-2014 that they were going to be the ones to give it its US release. An English dub for the thing was ready for a long time, and Paramount wouldn't give it a new release date for months... What the heck were they waiting for?
Then they did. It was supposed to land this past March, but the week before its opening, Paramount pulled it and dropped it. No distributor touched it, until Netflix picked it up and stated they'll debut it later in the year.
The good news is, Netflix will give the film a limited theatrical release the same day it hits streaming: August 5th...
Netflix has done this before with some films, but more than anything, I'm happy it'll at least play on some silver screens here. I'm still a bit bitter about Paramount just dropping it, but maybe it was for the better, because they weren't really marketing it. No one would've known it was out, and it would've been lost in the Disney storm of
Zootopia
and
The Jungle Book
.
Ratchet & Clank
kind of ended up getting that treatment, Focus/Gramercy tossed it with little-to-no fanfare and it died a quick death. Perhaps that was what was in store for
The Little Prince
...
A new (and great) trailer for the film is up...
... and hopefully it finds an audience. Perhaps it'll land a bigger one than it was ever going to get under Paramount's watch...
What say you?